Hope springs from desert find

Print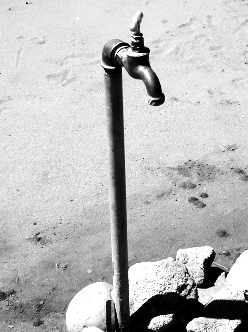 A significant new water supply has been discovered in central Australia's Anangu Pitjantjatjara Yankunytjatjara (APY) Lands.
The find could provide much-needed new drinking supplies to the 10 Aboriginal communities that make up the APY Lands, and could also bring new business opportunities.
The new water source was found about 90 metres below the surface, considerably deeper than existing supplies.
Early tests have revealed it to be fairly pure, with salinity under 1,000 parts per million.
"They did an aerial survey of the area, and then they came in with choppers," APY Lands general manager Richard King said.
"This is one of two places in the world which have landlocked tectonic plates.
"We think this water could be coming from a spring between the two."
It was uncovered in a "palaeovalley" — an ancient, underground valley. Samples dug from the core have been dated to between 5 and 10 million years ago.
"We knew that these ancient landscapes - these palaeovalleys - existed," Department for Environment and Water senior hydrologist Adrian Costar said.
"How extensive they are we're yet to understand."
The water is both low in salinity and abundant.
"It looks like its water pressure is 10–15 litres per second — to put that in some perspective, you could fill half an Olympic swimming pool per day," Mr Costar said.
More work will be needed to determine exactly what can be done with the precious resource.
"We're working with Flinders University and CSIRO and we're trying to understand a little bit more about the groundwater resource," Mr Costar said.
"Dating the groundwater will give us a better understanding of its age and where it comes from.
"The testing will help us protect this resource so it's here today and in the future."