Postdoctoral Fellowship - Microbial Ecology of Coastal Environments - [Archived Advertisement]
First listed on: 20 July 2017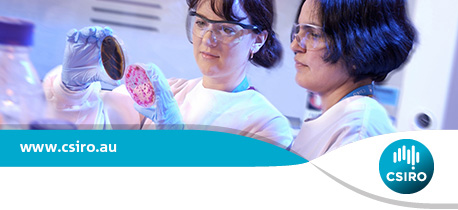 Postdoctoral Fellowship - Microbial Ecology of Coastal Environments
Great opportunity to utilise & develop your skills in estuarine microbial ecology & biogeochemistry

Collaborate with world leading professionals in environmental microbiology & biogeochemistry

Join a multi-disciplinary team at the forefront of linking microbiology to biogeochemical rates & models
The Position
Applications are invited for a 3 year Postdoctoral Fellowship in Microbial Ecology of Coastal Environments within the Environmental Genomics Team at CSIRO Oceans and Atmosphere. The Environmental Genomics Team uses state-of-the-art genomics-based assays to understand microbial processes in a range of natural and engineered environments. This project focuses on estuarine sediments links between microbial community composition and activity and biogeochemical function.
The Postdoctoral Fellow will be closely aligned with the role of a biogeochemist to provide the measurement of biogeochemical process rates at fine spatial scales, complimenting microbial community structure and activity information. These data will, in turn, be used to parametrize process models with biological data to better understand and predict the fate of organic matter entering near coastal areas.
Specifically you will be responsible for:
Molecular investigation of sediment microbial community structure and activity, experimental design and sample collection using model sediment/water systems, both ex situ (microcosms) and (in situ).
Maintenance of microcosms for investigation of microbial community and biogeochemical processes.
Organising and conducting field sampling in marine environments.
Collection of samples and extraction of DNA and RNA from marine sediments and water column.
Metagenome library preparation, qPCR, etc.
Analysis and interpretation of sequence data from metagenomic shotgun and amplicon libraries.
Application of statistical methods to link environmental and biological data.
Producing high quality scientific and/or engineering papers suitable for publication in quality journals, for client reports and granting of patents.
Location: Hobart, Tasmania Australia
Salary: AU$78K - AU$88K plus up to 15.4% superannuation
Tenure: 3 year specified term
Reference: 43884
For more details about this exciting opportunity click on the position details link: Position Details
To be successful you will need:
A doctorate (or will shortly satisfy the requirements of a PhD) in a relevant discipline area, such as Microbial/Molecular Ecology.
Demonstrated experience in the extraction of DNA/RNA from sediments and with standard molecular methods (PCR, qPCR, RT-PCR).
Demonstrated experience producing and analysing metagenomic and metatranscriptomic data.
Demonstrated experience in conducting field sampling in marine areas.
Demonstrated experience in the application of statistical methods to link environmental and biological data.
Owing to the terms of the fellowship, candidates must not have more than 3 years of relevant full time postdoctoral experience.
Who we are: The Commonwealth Scientific and Industrial Research Organisation (CSIRO)
At CSIRO we invent the future. We do this by using science and technology to solve real issues. Our solutions make a difference to industry, people and the planet. As Australia's national science agency we've been pushing the edge of what's possible for almost 90 years. Today we have thousands of talented people working across Australia and internationally. Our people work closely with industry and communities to leave a lasting legacy. Collectively, our innovation and excellence places us in the top ten applied research agencies in the world. We Collaborate to Innovate.
We work flexibly at CSIRO, offering a range of options for how, when and where you work. Talk to us about how this role could be flexible for you.
Find out more! https://www.csiro.au/en/Careers/A-great-place-to-work/Work-life-balance
CSIRO Oceans and Atmosphere
CSIRO Oceans and Atmosphere is uniquely placed to deliver significant economic, social and environmental benefits for Australia and the region. We seek to secure Australia's future through our seas and skies.
Find out more! http://www.csiro.au/en/Research/OandA
The Environmental Genomics Team is located in Hobart, offering outstanding life quality.
Hobart is home to the largest co-located team of bluewater oceanographers and ocean climate scientists in Australia. CSIRO works closely with the University of Tasmania, the Australian Antarctic Division, the Integrated Marine Observing System and the Antarctic Climate and Ecosystems Cooperative Research Centre. This team is recognised globally as a leader in ocean climate research. You will benefit from direct access to a group of scientists studying the oceans from the tropics to Antarctica, using both observations and models, and their interaction with the atmosphere, cryosphere and biosphere. A large peer group of PhD students and postdoctoral researchers will enrich your experience. We work with colleagues from around the world and you will have the opportunity to take advantage of these international collaborations. As the national focal point for bluewater ocean research, we organize numerous international workshops and symposia, and host many international visitors. The team has a high diversity across gender and race, and supports a flexible family-friendly workplace.
Hobart is a small and sophisticated city flanked on the west by pristine wilderness areas. It has a vibrant arts and music scene. There are many high quality schools located in the city, and quality day-care facilities close to our CSIRO site, which is located on the downtown waterfront. For further information please feel free to contact Levente Bodrossy (lev.bodrossy@csiro.au)
How to Apply: To apply for this position please include with your CV/Resume and a statement addressing the essential criteria, and any other information that is relevant to the position. Please upload these as one document.
Applications close: 21 August 2017 (11:59pm AEST)

Closing Date:

21 Aug 2017
Location:

TAS - Hobart
Salary:

AU$78K - AU$88K plus up to 15.4% superannuation
Work Type:

Contract/Temp
Category:

Coastal
Earth/Environmental Science
Education/Training
Marine Biology/Ecology
Oceanography/Marine Science
Research/Scientific