Postdoctoral Fellow - Centre for Southern Hemisphere Ocean Research (6 positions available) - [Archived Advertisement]
First listed on: 03 August 2017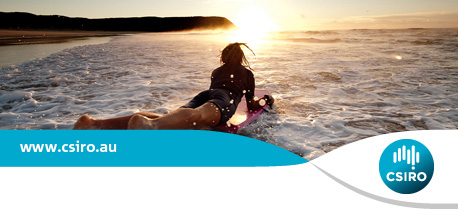 Postdoctoral Fellow - Centre for Southern Hemisphere Ocean Research (6 positions available)
Do you want to make a difference to ocean climate research?

Do you want to help improve our understanding of how southern oceans influence climate change?

Join our dedicated team at CSIRO Oceans & Atmosphere in Hobart, Aspendale or Perth today?
The centre for Southern Hemisphere Ocean Research (CSHOR), is a joint initiative between the Qingdao National Laboratory for Marine Science (China), CSIRO, University of New South Wales (UNSW) and University of Tasmania (UTAS). The CSHOR objective is to increase investment in ocean-climate research in order to improve our understanding of how the southern hemisphere oceans influence global and regional climate, and how the climate influences these oceans. These positions will based in CSIRO, and will work on one of many projects funded by CSHOR, to study dynamics of ENSO and the IOD, their impacts, and their response to climate change.
CSIRO Postdoctoral Fellowships provide scientists and engineers opportunities to launch their careers, extend their professional networks and enhance their career prospects. As a Postdoctoral Fellow with CSIRO's Centre for Southern Hemisphere Ocean Research
Specifically you will:
Carry out innovative, impactful research of strategic importance to CSIRO that will, where possible, lead to novel and important scientific outcomes.
Collaborate with different teams across CSIRO towards achieving the goals of the Centre for Southern Hemisphere Ocean Research
Undertake regular reviews of relevant literature and patents.
Produce high quality scientific papers suitable for publication in quality journals.
Prepare appropriate conference papers and present those at conferences
Communicate effectively and respectfully with all staff, clients and suppliers in the interests of good business practice, collaboration and enhancement of CSIRO's reputation
Locations: Australia – Hobart, Tasmania (Jobs 42201, 42202, 42965) Aspendale, Vic (jobs 42203, 43862) Perth, WA (Job 43001)
Salary: $78K to $88K plus up to 15.4% superannuation
Tenure: 3 years
Ref No.: 42201, 42202, 42203, 42965, 43001, 43862
To be considered you will have
A doctorate (or will shortly satisfy the requirements of a PhD*) in a relevant discipline such as: Climate Science, Physical Oceanography, Climatology. Meteorology, etc. (Please click on the Position Details links below to see which disciplines are relevant to the role(s) that captures your interest.)
A record of science innovation and creativity plus the ability and willingness to incorporate novel ideas and approaches
A strong background and substantial experience in the analysis of global ocean observations and/or model results.
The ability to work effectively as part of a multi-disciplinary research team, plus the motivation and discipline to carry out autonomous research.
*To be appointed candidates must have submitted their PhD by the time they commence, if a PhD has not been conferred.
Click on the Position Details links below to view the contact details and selection criteria for these 5 positions. Please note you will need to provide responses to the selection criteria for each position you wish to apply for
42201 Ocean Change and Sea Level Rise
42203 Tropical Variability (ENSO or IOD)
43001 Mixed Layer Dynamics in the Warm Pool
43862 Southern Ocean ENSO / IOD
About CSIRO:
Australia is founding its future on science and innovation. Its national science agency, the Commonwealth Scientific and Industrial Research Organisation (CSIRO), is a powerhouse of ideas, technologies and skills for building prosperity, growth, health and sustainability. It serves governments, industries, business and communities.
What CSIRO offers you?
Together the CSIRO and the Bureau of Meteorology comprise the largest team of bluewater oceanographers and climate scientists in Australia. This team is renowned for ocean and atmospheric observations and research, as well as oceanography and coupled ocean-atmosphere modelling. You will benefit from direct access to this broad expertise reaching across observations through to climate modelling. In addition there is a large peer group of Ph. D. students and postdoctoral researchers to enrich you experience, including interactions with the large body of researchers contributing to the Australian Research Council's Climate System Science Centre of Excellence.
About Australia
Australia is a stable, democratic and culturally diverse nation with a highly skilled workforce and one of the strongest performing economies in the world. With a spectacular natural environment, high quality of life and great diversity Australia is a sought after destination. Find out more About Australia.
How to Apply:
Please provide enough relevant information, addressing each selection criteria, to enable the Selection Panel to determine your suitability. Upload your cover letter, CV and responses to all selection criteria as one document (in MS Word).
Applications close: Open until filled. First round of shortlisting will commence from the 20th of August, apply today!
We work flexibly at CSIRO, offering a range of options for how, when and where you work. Talk to us about how this role could be flexible for you.

Location:

VIC
WA
TAS
Salary:

$78K to $88K plus up to 15.4% superannuation
Work Type:

Contract/Temp
Category:

Climate Science
Earth/Environmental Science
Education/Training
Fisheries/Aquaculture
Oceanography/Marine Science
Research/Scientific
Sustainability
Water Conservation