MNF Operations Officer - HSE - [Archived Advertisement]
First listed on: 10 October 2017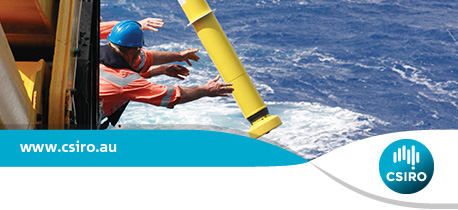 MNF Operations Officer - HSE
Manage multi-disciplinary blue-water research voyages opn the Marine National Facility (MNF) RV Investigator

Develop and manage relationships with internal and external stakeholders

Join the Marine National Facility team at CSIRO and see the world!
The Position
Owned and operated by CSIRO and overseen by an independent Steering Committee, the MNF is managed as a CSIRO Business Unit through a small team in Hobart known as the Ships Management Group. Led by the MNF Director, the Ships Management Group is responsible for governance committee support and policy development.

As part of a dynamic and flexible team, the Operations Officer - HSE will be responsible for supporting and delivering voyages for the safe and effective operation of the Marine National Facility (MNF). The Operations Officer – HSE will work as part of the Ships Management Group in the Operations Team to manage multi-disciplinary blue-water research voyages on the RV Investigator. They will work collaboratively with the Ships Management Group, vessel users, the ship management contractor and the broader CSIRO HSE team to deliver safe and effective research voyages. In addition to managing the planning, logistics and execution of research voyages, this role will have an emphasis on research vessel laboratory safety, HSE documentation development and implementation and risk assessments from a marine perspective. The Operations Officer - HSE will be responsible for managing all aspects of the research voyage planning and execution process. The role will involve travel and there may be opportunity to go to sea as part of providing support more broadly in the MNF.
Location: Hobart, TAS
Salary: $80K - $91K pa plus up to 15.4% superannuation
Tenure: Indefinite
Reference: 48822
To be successful you will need:
A Bachelor degree and/or relevant experience in marine research operations;
Demonstrated experience in marine research operations and HSE;
A willingness and ability to travel in order to provide operational support in domestic or foreign ports;
The ability to obtain a Maritime Security Identification Card;
The ability to obtain MNF Remote Medical Clearance;
Demonstrated experience and knowledge of the conduct of marine research and vessel operations;
Demonstrated experience in applying organisational policy in laboratory safety to the research vessel environment and permitting compliance of research operations;
Ability to conduct risk assessments and prepare safe working procedures for research vessel activities including laboratory work;
Superior communications skills to engage with a wide range of stakeholders and negotiate operational outcomes;
Demonstrated experience in providing high level complex support and advice to senior management and effective client and staff liaison in a fast paced and complex environment;
Demonstrated ability to work effectively and independently in a professional team environment; to coordinate provision of the logistical, operational and technical requirements necessary to support research voyage operations; and
Highly developed time management and organisational skills with the ability to prioritise demands, and escalate issues as appropriate; establishing priorities for managing multiple tasks and deadlines.
Who we are: The Commonwealth Scientific and Industrial Research Organisation (CSIRO)
AT CSIRO WE INVENT THE FUTURE
We do this by using science and technology to solve real issues. Our solutions make a difference to industry, people and the planet.
As Australia's national science agency, we've been pushing the edge of what's possible for almost 90 years. Today we have thousands of talented people working across Australia and internationally. Our people work closely with industry and communities to leave a lasting legacy. Collectively, our innovation and excellence places us in the top ten applied research agencies in the world.
WE COLLABORATE TO INNOVATE
Marine National Facility
Funded by the Australian Government, owned and operated by CSIRO under direction of an independent Steering Committee, the Marine National Facility provides a blue-water research capability to the Australian scientific community and their international collaborators.
The Marine National Facility is based at CSIRO's Marine Laboratories in Hobart, Tasmania, which is also home port for the research vessel. Since 2000, 348 applications totalling over 8,000 days at sea have been applied for throughout all corners of Australia vast marine estate. This research obtained from these voyages provides critical information to directly support government, industry and other stakeholders in making evidence based decisions to ensure the long-term viability and prosperity of Australian marine industries.
The Marine National Facility has been a key element of Australia's national research infrastructure since 1984..
How to Apply: If you wish to apply for this position, please upload one document only containing your covering letter and resume that best demonstrates your ability to meet the requirements of the role as defined in the position details document.
Before applying please view the full position details and selection criteria here: Position Details
We work flexibly at CSIRO, offering a range of options for how, when and where you work. Talk to us about how this role could be flexible for you.
Find out more here! CSIRO Balance
Applications Close: 10:00pm AEDT, 20 October 2017

Closing Date:

20 Oct 2017
Location:

TAS - Hobart
Salary:

$80K - $91K pa plus up to 15.4% superannuation
Work Type:

Full Time
Category:

Occupational Health & Safety
Oceanography/Marine Science
Operations
Research/Scientific