First listed on: 11 July 2019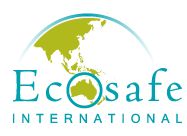 Senior Water Quality Consultant
Ecosafe International is a dynamic and growing specialist water consultancy which provides practical, risk based solutions across the mining, industrial, government, institutional and commercial sectors.
We are currently seeking an experienced Senior Water Quality Consultant / specialist to join our vibrant team in WA or Brisbane. Key skills must include the following:
Key Skills
Science based degree or appropriate work experience
At least 5-7 yrs experience in drinking water quality related role
Knowledge and understanding of the ADWG and/or AGWR or
Demonstrated understanding of interface between water and health
Exemplary interpersonal and report writing skills

Ability to write a scientific report
Ability to understand client specific requirements.

Attentive and details orientated individual
Ability to research and understand a given topic
Proven project management skills
Proven client management skills
Knowledge of regulatory processes (desirable)
Audit experience (desirable)
Understanding of health based targets / log reductions
Motivated 'self starter'
Driver's license
Strong ethical and safety conduct
Key Responsibilities
As a summary the role will include the following key responsibilities:
Undertaking water quality risk assessments and management evaluations
Preparation and facilitation of HACCP risk workshops
Drafting water quality reports
Development of site specific Drinking Water Quality Management Plans (DWQMP) and /or Recycled Water Quality Management Plans (RWQMP)
Management of water quality related incidents / events
Development of client specific water quality incident / event protocols
Assessment of water treatment design and evaluation of associated health based targets (log reductions calculations)
Undertaking water quality audits and reviews
Undertaking water quality sampling and investigations
Evaluation and management of water quality databases
Generation of site specific water quality manuals
Water quality reporting / liaison with regulators (Department of Health)
Provision of concise, accurate and timely written and verbal reports to clients
Management and mentoring of junior personnel
Internal report review
Proposal / tender preparation
Delivery of water quality related training
Awareness of business development opportunities
Ability to manage project delivery and budget
Key client management.
Interpersonal Skills / Communication
As a summary the role will require the following interpersonal / communication skills:
Work well within a team
Proactive approach
Ability to manage own time
Highly developed communications skills, including report writing and feedback presentations
Ability to write scientific reports.
Selection Criteria
The selection criteria will include the following:
Interpersonal skills
Working knowledge of water quality management, ADWG and / or AGWR
Working knowledge of regulatory requirements
Report writing capabilities
Problem solving capabilities
Water treatment operational experience
Ethical and safety related conduct.
Submission Process
If you are driven by excellence, have a positive attitude and want to join the dynamic team please get in touch. We are always happy to receive resumes from anybody interested in joining the Ecosafe Team and the position will be filled as soon as we find a suitable candidate. Salary package to be based on individual candidates. Please email your resume and covering letter clearly outlining your suitability to the above criteria to hr@ecosafeinternational.com
Location:

WA
Salary:

package to be based on individual candidates
Work Type:

Full Time
Category:

Earth/Environmental Science
Project Management
Water Quality Monitoring and Analysis