First listed on: 12 November 2018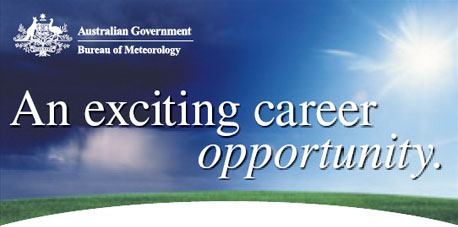 Hydrological Scientist
Under the Federal Government's New Policy Proposal for Water, the Bureau of Meteorology has been tasked to deliver expanded guidance on Australia's water information. The Bureau is currently seeking to employ a Hydrological Scientist in the Water Resources Section to be a key contributor in developing, testing and implementing continental forecasting capability and climate change impacts on water using the Bureau's high-resolution distributed hydrological model, AWRA-L. The AWRA-L model underpins operational national retrospective water resource assessment and monitoring through the Bureau's Australian Landscape Water Balance website. This role will support application of AWRA-L in forecast mode and for assessing the impacts of climate change on water related variables.
We are seeking a talented and motivated hydrologist, meteorologist or other scientist with experience in the development testing and evaluation of models, ideally with experience in the application of models for forecasting and/or climate change purposes. Experience with continental or global scale hydrological models, high performance computing, bias-correction of hydrological model inputs from climate models, assimilation or hydrological forecasting, or equivalent skills in related fields is advantageous. Previous research experience is also an advantage. Well-developed python scripting skills, and demonstrated skill in using IT systems, particularly Linux is highly desirable, however we will consider applicants with equivalent skills if they are judged to be able to rapidly transfer their skills to our python environments. Well developed communication skills, both within the office and externally are also important.
Tasks will include running and evaluating hydrological forecasts or projections in the national distributed hydrological model system and creation of new automated analysis routines using scripting and coding languages in Python. The ideal candidate will have demonstrated experience in hydrological forecasting of climate change impact assessment, passion and expertise in hydrological or related model development, a sound knowledge of python and Linux, is service delivery focused and possess superior collaboration skills. The successful applicant may be located in either Melbourne, Sydney, Canberra or Brisbane. Other capital cities may also be considered.
The occupant will be involved in the development of the Bureau's new water resource modelling tools for Landscape Water Balance Forecasting including bias correction and data assimilation. This will include data collection, processing, analysis, scripting and reporting.
Key delivery responsibilities will be to support achievement of the Soil Moisture Forecasting and Hydrological Projections project goals by understanding requirements, undertaking tasks and collaborating with other team members across the Water Resource section, Climate analysis team, Science to Services and the Data and Digital group.

Closing Date:

22 Nov 2018
Location:

VIC - Melbourne
Work Type:

Full Time
Category:

Climate Science
Data Analysis
Hydrology/hydrogeology
Research/Scientific