NT arid area raided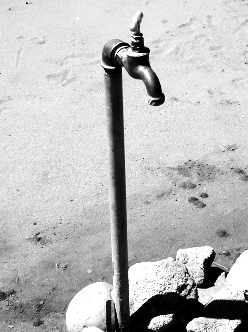 The NT Government has been accused of trying to open up more areas to water extraction.
An invisible line across the Northern Territory below the town of Larrimah is used to divide the tropical Top End and the arid south.
Environment groups say the NT Government is quietly migrating that line north to allow "aquifer mining" and "dangerous decision-making".
NT Environment Centre director Kirsty Howey says pristine river networks are under new threat.
"What we've seen recently is an inexplicable change, that is not precautionary on any reading, to the use of the arid zone rules," she said.
"It's like creating water out of thin air that just was not available for the fracking industry or for other industries that want to get a foothold in the Territory. And it's extremely worrying."
A massive water licence was overturned last year following a challenge by the NT's Environment Centre and the Northern Land Council.
The NT Water Controller had used the arid zone rules to grant a 10,000-megalitre water allocation to the state government's NT Land Corporation for fruit crops.
The rules allowed 20 per cent of the recharge from an aquifer to be extracted by industries, but this was controversially flipped in the southern two-thirds of the NT, allowing 80 per cent to be taken out.
"What we've seen since that decision, are licences being handed out for irrigated agriculture, but also for fracking, using the arid zone rules," Ms Howey said.
She was concerned the arid zone rules would be applied further north.
"The scientific inquiry into hydraulic fracturing in the NT … made it very, very clear that the use of the arid zone rules for any extractive industry in the NT, particularly for fracking, was completely unsustainable," Ms Howey said.
"So if we go down the path of using unsustainable rules that are in clear breach of the recommendations of the Pepper inquiry, and the commitment of the NT government to implement those recommendations … all who rely on this groundwater are in real trouble."
The Northern Land Council says consultation with Indigenous people is needed to ensure "inappropriate" water management and licensing decisions do not go ahead.
Dr Erin O'Donnell from the Centre for Resources, Energy and Environment Law at the University of Melbourne says that "the arid zone rules are exploitative".
"They are effectively aquifer mining," she said.
"The arid zone rules allow you to lower the aquifer by 80 per cent over a 100-year period.
"Groundwater is going to become increasingly important under a climate change future, so we need to be able to manage it sustainably."
More details are available here.