WaterNSW preps dams for deluge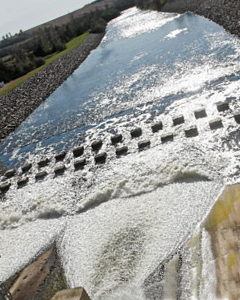 WaterNSW says regional dams are ready to capture the next round of inflows.
Almost all storages in areas to be inundated have been reduced in anticipation of forecast rain events.
Releases that have occurred between rain events to minimise downstream impacts will be cut back as the rain approaches to prevent dam water adding to any uncontrolled downstream tributary flow generated by the rain.
In the Murrumbidgee Burrinjuck (94.3 per cent of capacity) Blowering (98.7 per cent) dams are likely to have capacity to capture the anticipated inflows, with the potential for a small spill under higher rainfall forecasts, but low level releases will continue at both storages to maximise the airspace available, while minimising flow peaks downstream.
In the Central West Wyangala (95.8 per cent) storage level has also been reduced, while Burrendong (128.6 per cent) remains in the flood surcharge zone, but with ample airspace for inflows.
In the northern valleys Chaffey (100.7 per cent) continues to spill, and while Keepit (95.2 per cent) storage has been reduced, persistent inflows into Copeton (98.7 per cent) mean airspace operations will continue for the time being, in line with the forecast and downstream tributary flows.
In consultation with regional community airspace reference panels WaterNSW has now been making substantial releases between rain events for months, to lower key dam storages and capture inflows from the next forecast rain event.
WaterNSW says it is working closely with the Bureau of Meteorology and the NSW State Emergency Service to monitor weather and inflows.