Big dam surprise in multi-million NSW plan

Print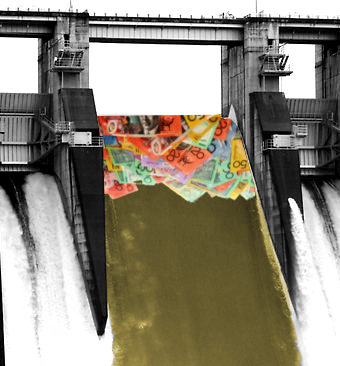 The New South Wales Government has dropped a big surprise on its people, announcing funds for a new dam as part of a new $325 million drought-proofing and water-saving scheme.
New South Wales Deputy Premier Andrew Stoner says the state's first new dam in almost thirty years will hold about 90,000 megalitres south of Orange.
It will be funded as part of the $325 million Water Security for the Regions program announced this week.
$150 million will go toward the initial construction of the Needles Gap dam on the Belubula River near Orange.
The proposed Needle Dam will sit between Canowindra and Mandurama. The plan has plenty of supporters, who say it would provide water security for eight local government areas and trigger development being held back by the lack of a water storage below Bathurst and Oberon.
The announcement, made ahead of next week's 2014/15 NSW Budget, has been met with surprise by many landowners and with concern from environmental groups.
Local graziers, wine producers and other farmers say there was very little consultation prior to the announcement, and they are waiting to see more details of the broader scheme, but that after an extended dry period and numerous floods when it does rain the dam seems like a good idea.
But the Inland Rivers Network says the $150 million for the dam could be better spent on boosting water efficiency in towns and farms.
Meanwhile, the Nature Conservation Council is concerned at the potential for environmental problems caused by the dam, such as river system degradation.
One local farmer, John Toohey, told the ABC he was happy about the announcement, despite it meaning that his family's 100-year-old farm house would be flooded.
Mr Toohey said the value of the water to the local community would far surpass the value of his old house, and he supports the selection of the deep gorge landscape as a perfect place to hold water.