Billions to gain by moving green goals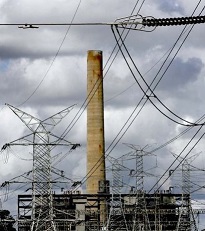 New modelling shows that Austrlaia's energy giant stand to make billion from ar educiton in the Renewable Energy Target (RET)
With the RET under review, research from the Jacobs Group commissioned by The Climate Institute, Australian Conservation Foundation and WWF-Australia says that the owners of coal and gas-fired power plants stand to gain big profits from a lower goal.
As it stands, the RET has a mandatory goal of supplying 41,000 gigawatt-hours of renewable energy by 2020.
But energy firms such as EnergyAustralia and Origin Energy have led calls to cut it to a precise 20 per cent of supply.
The new study shows moving to a 20 per cent goal would deliver $1.9 billion in extra profit to Energy Australia for 2015 to 2030, in current-dollar terms.
Origin would stand to make $1.5 billion, as fossil fuel generators gain from the removal of downward pressure on wholesale prices by additional wind or solar energy sources, with their near-zero marginal costs.
In total, researchers estimate the energy industry stands to make about $10 billion from a reduced RET.
Meanwhile, they calculate Australia would have to forego about $8 billion in renewable energy investment.
The paper also claims a weaker RET would drive up wholesale prices by 15 per cent and retail prices 2.5 per cent by 2030.
"Power producers don't want to change the RET so they can charge less for electricity," deputy chief executive of The Climate Institute, Erwin Jackson, has told the Sydney Morning Herald.
"The reason they oppose it is that they want to make more money."
The Federal Government is expected to receive orders from its hand-picked RET review panel this week.
The clean energy industry continues to sit still in fear that new investment in large-scale wind, solar and other renewable sources will not happen under the new renewable regime.
As well as higher electricity costs, the increased fossil fuel use would expand Australia's carbon pollution by 12 million tonnes a year, with emissions hitting about 200 million tonnes annually if the RET were abolished.
The Climate Institute says weakening the RET would bring social costs of at least $14 billion, while merely stalling the inevitable decarbonisation of the energy sector.
The Clean Energy Council says more than 87 per cent of the detailed industry submissions were in favour of the RET being retained or enhanced, and up to 99 per cent of 23,272 community submissions backed it too.