BOM issues national warning

Print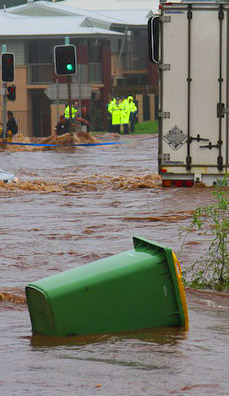 The Bureau of Meteorology is warning of an increased risk of flooding this summer in the east and north of Australia.
The La Niña weather system is already making its presence felt, bringing widespread rain to Victoria.
Now, the BOM's October to April outlook suggest there will be a big change from last year, with the risk of flooding particularly high for the eastern two-thirds of the country.
La Niña brings an added risk of tropical cyclones too, with experts predicting a 66 per cent chance of more cyclones than average for the Australian region this season.
Cyclones are expected to form earlier than normal as well.
Average years see between nine and 11 cyclones, about four of which cross the coast. BOM senior climatologist Greg Browning says cyclone systems will "be more active than we've seen in recent years".
"With La Niña this year we are expecting to see slightly more tropical cyclones than average, and the first one may arrive earlier than normal," Mr Browning said.
But while parts of Victoria and New South Wales are seeing good rain, Queensland and south-west Western Australia are experiencing dry conditions.
"So while the rainfall outlook suggests that they will see a lot of rain over the next few months, until the rain starts to come in and wets the environment and increases the soil moisture, they will be prone to above-average fire risk," Mr Browning said.
Also, he says having a rainy winter does not keep bushfires away. As La Niña's influence wanes in the second half of summer, new growth driven by the early rain will dry out and increase the grassfire risk.
"Southern Australia is one of the most fire-prone environments in the world," Mr Browning said.