BP's Bight spill models surface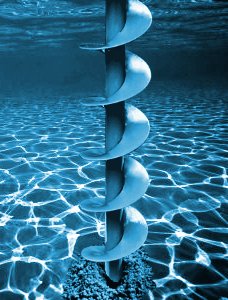 Research suggests an oil spill from BP's proposed Great Australian Bight project could smash South Australian tourism and aquaculture hotspots.
Worst-case modelling released by BP shows a spill between April and May would definitely hit Port Lincoln and Kangaroo Island, and at any other time of year poses a high risk.
BP wants environmental approval so it can start exploration drilling for two wells off South Australia's west coast.
The sites sit 600 kilometres west of Port Lincoln and 400 kilometres south-west of Ceduna.
The review found a spill would almost certainly impact Adelaide, and could be particularly bad for the endangered southern right whales nursing calves at the head of the Bight in winter.
Wilderness Society South Australia's director Peter Owen says it is alarming.
"This is catastrophic stuff, it must be stopped," Mr Owen told ABC reporters.
"It indicates that we could be looking at up to 4,000 kilometres of coastline with oil, 94 per cent chance of reaching Kangaroo Island with 15 days of a spill, 86 per cent of oil reaching Adelaide within 20 days of a spill,"
The modelling released by BP actually paints a worse picture than modelling produced by the Wilderness Society last year.
BP said it had confidence that a well blowout could be contained within 35 days, based on the time it takes to drill a relief well to kill the blowout.
"BP have determined a ­realistic and achievable time to drill a relief well is 149 days," the company said.
Even so, the company's oil-spill model had to run for 209 days to map the trajectory of oil after ­release.
The report says there would be a 70 per cent chance of a spill reaching Apollo Bay and Wilsons Promontory, in Victoria, in winter, and a 41 per cent chance of reaching the News South Wales south coast in winter.
"What BP have now put out makes what we put out, and commissioned look quite conservative," Mr Owen said.
"These are risks that we can't afford to take, we simply cannot afford to allow this to progress."
The worst case scenario BP modelled "assumes that no attempts to control, contain, disperse or recover an oil spill are attempted".
Clearly, in an actual spill event, some or all of these measures would be undertaken.
BP's environmental plans have been knocked back by the federal regulator National Offshore Petroleum Safety and Environmental Management Authority (NOPSEMA) twice now, with a decision on the company's third plan expected by September 29.
"Alarm bells must be ringing back in BP headquarters in London," said Wilderness Society national campaign director Lyndon Schneiders.
"The company can't afford another Deepwater Horizon."