Bungled bund wall begs closer view

Print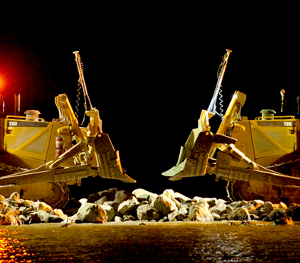 Several bodies are calling for increased scrutiny of the Port of Gladstone, as the federal environment department moves to delay its decision on leaking dredge spoils.
Federal Environment Minister Greg Hunt has extended the deadline for an independent review into a failed bund wall at the port, which had been set up to hold back mounds of dredge spoil from an earlier expansion of the port.
Leaks from the wall coincided with an outbreak in disease across several specieis of fish in the harbour.
A panel tasked with investigating the bund wall failure had been due to report before the end of March, but that date has now been pushed back by a month.
Queensland MP Liz Cunningham is pushing for increased efforts, and for the investigation to be upgraded to a full Commission of Inquiry.
Ms Cunningham tabled a 70-page report on the acid sulphate soil management plan for the Gladstone Harbour dredging project in Queensland Parliament this week, saying the state government's finding that the diseases were caused by flooding events was inadequate.
She said there has been "two sets of books".
"It asserts that while there has been several inquiries into the harbour health and fish deaths, those responsible for inquiring into and reporting on problems faced by the community and challenges to the harbour health were not given access to all the environmental data available," Ms Cunningham said.
"The material that I intend to table asserts that there had been two sets of books in relation to information and data relating to the Gladstone Harbour ... the submission summarises the concerns that they have.
"It was legally prepared - it indicates that there has been information known but not made available to those making inquiries."
Co-owner of the Gladstone Fish Market, Ted Whittingham, backed the call in a recent interview with the ABC.
"The people heading up this panel of review are people from the CSIRO and the CSIRO are contractors to the Ports Corporation," Mr Whittingham said,
"So I don't see how the CSIRO can review their own work and review their client's work... independently and objectively.
"This needs to be a Commission of Inquiry that has powers to get people to come and give evidence, the power to protect people if they do give evidence.
"I wish the Minister would keep to his word do a Commission of Inquiry and make it totally independent, because until it becomes independent we're going to have commercial obligations interrupting the truth."