Coober Pedy supply suffering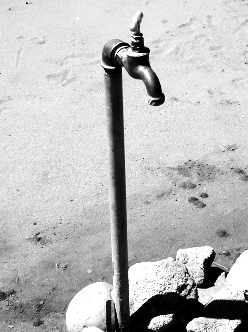 An aging remote water system could leave Coober Pedy high and dry.
The 1,500 residents of the District Council of Coober Pedy (DCCP) usually enjoy an almost-constant water supply, despite their remote arid location.
The town is the only one of its size in South Australia to maintain its own water supply and network.
Since 1986, it has sourced its water from the Great Artesian Basin via a bore 25 kilometres from the town, before sending it to a water treatment plant and on to the township.
But the town's network is aging, creating concerns for the future.
Six major incidents have severely impacted water supply in the town in the last 12 months.
DCCP acting CEO and Water Manager Colin Pitman says the network is reaching breaking point.
"There's been a lot of leaks in the old pipe network in the community," Mr Pitman told the ABC.
"Those leaks are sometimes evident at the community with wet spots, but clearly we have a large leak in the network at the moment that we can't find, that's causing us to lose about 30 per cent of our water into the ground somewhere.
"That means we have to produce 30 per cent more water to supply the residents that we've got."
He said the leak was extremely difficult because of the highly permeable soils that the pipe network runs through.
"It's caused by a split in the pipe, and they squirt downwards … that leads straight back down into the aquifer that the water is drawn," Mr Pitman said.
"It means the water supply is only just balancing the water demand.
"If any time there is a leak in the network, then we're on a knife-edge in relation to meeting demand."
A council report from late last year said production is only just balancing with consumption.
A State Government arrangement allows most of the state's regional councils to receive water at the same cost as Adelaide councils, but because Coober Pedy is not connected to the rest of the SA Water network, it is exempt from this.
"We've asked for the State Government to offer that underwriting bonus that rural people get in the rest of South Australia to apply to Coober Pedy as well," Mr Pitman said.
"It's not a large cost in the scheme of the Adelaide market and we're asking for that concession to be granted."