Cotton costs counted

Print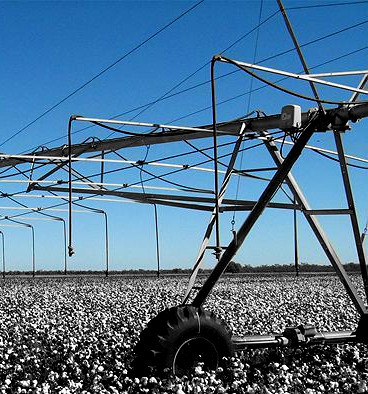 ABS stats show farmers in the Murray-Darling Basin increased their land under irrigation and water use during an extraordinarily dry period.
The value of the 2017-18 national cotton crop jumped 49 per cent to $2.5 billion, separate ABS figures show.
The bureau says the Murray-Darling Basin accounted for about 70 per cent of agricultural water use nationally in 2017-18.
Cotton farms in the basin alone used 2.505 trillion litres of water on 320,000 hectares of land, an increase on both stats of about 4 per cent from 2016-17.
Maryanne Slattery, a water analyst with The Australia Institute, said the increased irrigation during the exceedingly dry 2017-18 "makes you wonder if the cap agreed to limit use to 1993-94 levels of development had been exceeded".
A report Ms Slattery released in March says northern basin cotton will take about the same amount of water as is lost from evaporation.
Cotton Australia expects production to slump.
"If we don't see any significant rainfall in the coming months, unfortunately our growers will face the harsh reality of a further reduced crop next season," Cotton Australia's chief executive, Adam Kay, said.