Court delays for sunken giant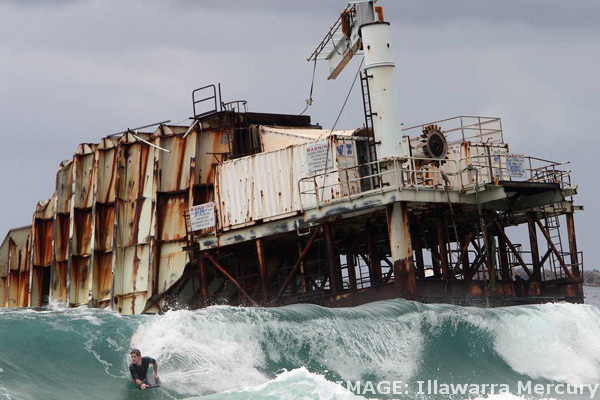 A 3,000-tonne wave energy generator has been sitting off the coast of Adelaide since it sunk over three years ago.
The Oceanlinx generator was being towed on giant airbags from Port Adelaide to Port McDonnell in 2014, where it was intended to sit under its own weight on the seafloor to form the world's first one megawatt single unit wave energy converter.
The massive concrete structure has a turbine on top, and was designed to use oscillating water column technology to generate enough energy to power about 1,000 homes from shallow waters.
But this was not the case after one of the airbags sprung a leak, leaving the generator listing and immobile, before eventually sinking to the shallow seafloor.
Oceanlinx received a $7.2 million grant from the Federal Government's Energy Renewables Programme and a grant from the Australian Research Council for the generator, but still managed to go bust in the weeks after it sank.
Now, Oceanlinx liquidator and Deloitte Restructuring Services partner Vaughan Strawbridge says the situation is being held up by court proceedings in which a creditor is seeking priority access to funds the liquidator currently holds.
Deloitte says there are insufficient funds left in the company to cover "remediation or removal of the wave generator", and so it must "disclaim all rights to the unit".
"The South Australian Government and anyone else who has an interest in the unit has been put on notice of this," a spokesperson said.
"As far as any costs are concerned, the Government will be able to make a claim in the liquidation alongside other creditors."
Meanwhile, residents of Yankalilla still have to look at the giant unit sitting semi-submerged just off the coast.
Residents were told the structure would be removed within a year, and "ever since that time, [the] council are regularly asked by residents if we know any more than they do and when it is going to be gone," according to District Council of Yankalilla chief executive Nigel Morris.
The structure remains surrounded by an exclusion zone.
The SA Department of Planning, Transport and Infrastructure (DPTI) says the zone will remain in place because the generator "in its current form may pose a safety risk to anyone on or near the unit".
"DEWNR [Environment, Water and Natural Resources department] has visited the site several times. There are no concerns of serious or significant environmental impact," she said.
The DPTI says numerous maritime contractors have submitted plans for the unit's removal, but it is all on hold until finalisation of Federal Court proceedings.