Dozens dead in offshore oil blaze

Print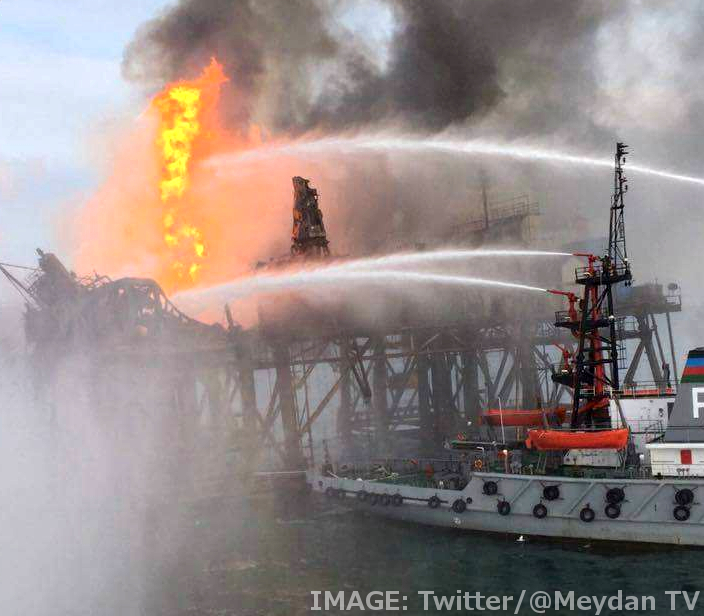 Reports say up to 32 people are dead after one of the worst offshore oil disasters in history.
Platform 10 of the Guneshli field in the Caspian Sea off Azerbaijan caught fire on Saturday, after what is believed to have been severe weather ruptured a gas line.
It caused explosion and vicious fire that engulfed the platform.
Rescue was hindered by 8-metre-high waves and strong winds, with reports of people trapped in lifeboats blown against the platform.
A spokesperson for the State Oil Company (SOCAR) said everyone had been safely evacuated, but there many remain sceptical about the claim in a region notorious for controlling the media.
SOCAR said in a post on Facebook that 26 workers were rescued from the platform.
Independent sources believe at least 32 people have died and 42 workers had to be rescued.
Eye witnesses have reported horrific accounts of bodies floating in the water as rescue vessels tried to approach the burning platform.
Mirvari Gakhramanly, head of Azerbaijan's Oil Workers Rights Protection Committee, says the platform fire has been extinguished.
SOCAR has issued three emergency response phone numbers, but media outlets says they have been unable to get an answer on two of the lines and were repeatedly hung up on by the third.
The company is expected to take a pretty big hit from the fire, with around 60 per cent of SOCAR's oil production passing through the platform where the fire broke out.
The tragic incident was the second to hit a SOCAR platform in the same day.
Earlier on Saturday, an accommodation module is reported to have collapsed at sea, allegedly killing 3 people.