Experts question Reef fan plan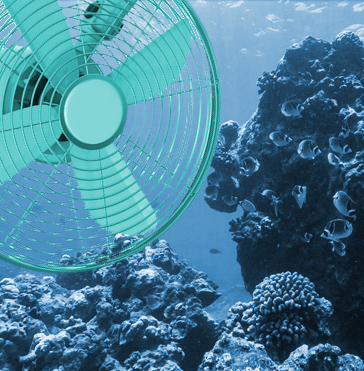 Millions in Commonwealth funding has been spent on Great Barrier Reef projects that some say could make the issues worse.
In December 2017, environment minister Josh Frydenberg announced a $2.2 million project to install giant fans on a small part of the Great Barrier Reef, designed to mix cool water from deep in the Coral Sea with warmer shallow water.
Its proponents say it will help reduce heat stress and avoid coral bleaching.
However, scientists have warned that by circulating warmer water down low, it could actually "increase risk of thermal stress, disease and bleaching", according to documents submitted to the government's Reef 2050 independent panel, reported by The Guardian.
Additionally, renewed funding has been approved for a crown-of-thorns starfish outbreak management program, aimed at slowing the outbreak of the coral-eating starfish on the Great Barrier Reef.
The Great Barrier Reef Marine Park Authority (GBRMPA) has outsourced the work to the Reef and Rainforest Research Centre (RRRC, the same group behind the fan cooling project), in partnership with the Association of Marine Park Tourism Operators (AMPTO).
The RRRC and AMPTO were awarded a $5.6 million contract to conduct the program in 2017, which followed $5.6 million awarded to the RRRC for the same project in 2016, $7.7 million in 2015 and $6 million to AMPTO in 2013.
Reports say there is still $14.4 million available for the project, which has not yet been awarded.
This is despite a 2016 report by the Australian National Audit Office (ANAO) that found no evidence the starfish culling program was a proper use of public funds.
A researcher from the consultancy Reefcare International, contracted by the RRRC, found there had been a widespread and consistent failure of the program in both 2015 and 2016.
The scientist said the RRRC and AMPTO had displayed "startling ignorance" in the area of starfish management.
He said there was evidence that the crown-of-thorns culling programs could be making the situation worse.
A spokesperson from RRRC acknowledged that the program has been ineffective in the past, but said this year's efforts would be helped by a new surveillance boat to identify the best places to target the starfish culling.