Farm funds locked in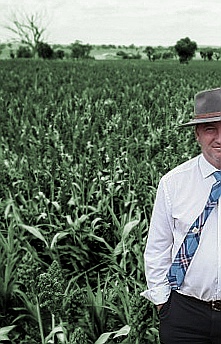 The new Federal Budget locks in Landcare funding to 2023.
The Federal Government has promised $1.1 billion for the program over the next seven years, including an extra $100 million from a deal with the Greens' over the contentious backpacker tax.
Of that $100 million, $85 million will go to on-the-ground projects by Landcare groups, Landcare Australia and the National Landcare Network, and for sustainable agriculture grants.
The remaining $15 million will fund projects at new indigenous protected areas.
The use of the funding is determined by the Natural Heritage Ministerial Board - Deputy Prime Minister and Agriculture Minister Barnaby Joyce and Environment Minister Josh Frydenberg.
Mr Joyce says he wants funding spent eradicating red fire ants in South East Queensland, recently arguing that "this work offers a strong return on investment for all Australians".
"Sixteen years' worth of shared eradication and containment efforts can be brought to a close through this investment that will increase the intensity of treatment and surveillance for these ants," Mr Joyce said.
"Every farming family I know wants to pass on their land in better shape than when they got it and our investment through this budget will help them achieve those goals."
Mr Frydenberg said the renewed funding was "further evidence of this government's commitment to continue this important work of looking after our environment".
"We will continue to support on-ground community projects that harness local know-how and deliver practical and tangible results," he said.
There no significant new money for the fight against pests and diseases, despite a string of serious biosecurity breaches in recent years.
However, some food importers will face stricter requirements, with new measures requiring them to provide evidence that their product is coming from a region with internationally-recognised food safety controls.
Additionally, Australian officials will be given new emergency powers to hold products at the border, to keep unsafe food out of the country.
The Budget papers also include existing plans for a nationally consistent approach on ballast water that will take effect in September.
The Farm Household Allowance (FHA) income support payment program will continue indefinitely, but will now offer access to concessional loans once they max out their FHA payments.
New criteria allows farmers coming off FHA to not have to live within an eligible drought-affected area to apply for a loan, though they may not meet financial criteria for 'viability'.
Budget papers for the Environment and Energy portfolio are available in PDF form, here.