Farmers reject Reef plans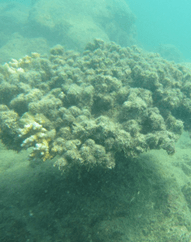 The Queensland Government is looking at new laws to reduce harmful nutrient and sediment run-off from farms into the Great Barrier Reef.
The new regime could force farmers to adhere to minimum standards for water running off their properties.
This so-called 'gully erosion' impacts just 0.1 per cent of the Great Barrier Reef catchment area, but about 40 per cent of excess erosion originates in gullies.
CSIRO scientist Rebecca Bartley says dramatic change is possible through management and remediation.
"A lot of the issues are legacy that may have occurred back from gold mining days, from changes in previous grazing habits that we now have improved on," she said.
"The fact that we're dealing with a really small area gives us hope, that if the treatments we're trialling, and we can improve water quality, that it's actually tractable and manageable."
Grazier and AgForce North Queensland president Matt Bennetto says the extreme tropical conditions make it nearly impossible to guarantee standards.
"Leaves on the ground, potentially having fines for people or debris on your country — there's no way that this legislation, that anyone can stay compliant with it," Mr Bennetto said.
"It is very disingenuous for a government to say that we are doing this for reef health or anything like that."
While many farmers reject the need, State and Federal governments have put up $100 million for sediment control programs in the last five years.
The previous LNP government gave farmers a voluntary system of best management plans to drive land use change.
Minister for the Environment and the Great Barrier Reef Leeanne Enoch said the voluntary improvement scheme had not been properly used, allowing water quality to continue to decline.
"Under the proposed grazing minimum standards, graziers are not expected to fully remediate severely degraded land such as mine sites or large alluvial gully complexes," Ms Enoch said.
"However, measures must be taken to prevent areas of degraded land from further degrading."
The reef regulations were recommended by the Great Barrier Reef Water Science Taskforce.
"More than 60,000 tourism jobs rely on it," Ms Enoch said.
"These regulations are also a way of maintaining the Great Barrier Reef's UNESCO World Heritage status.
"Queensland's climate is changing. We are already experiencing more frequent extreme events such as coral bleaching and intense rainfall.
"This means that now, more than ever, it is important to reduce the pressures on the reef, including water quality."
The bill will return to Parliament on August 20.