Fire chiefs plan summit

Print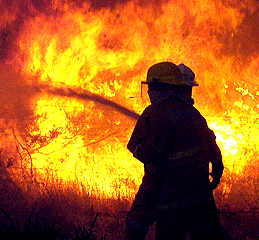 A group of former fire chiefs has accused the Australian government of being "asleep at the wheel" on climate policy.
Emergency Leaders for Climate Action - a group of 29 former emergency services bosses – wants to hold a national summit to fill the "leadership vacuum" left by the Morrison government. The group has been linked to respected Australian scientist and climate activist Tim Flannery.
They have threatened to take matters into their own hands if new efforts are not made to address the bushfire crisis.
"What I'm seeing is an absolute crisis in the leadership that we do not have right now in this country," Former ACT Emergency Services Authority commissioner Peter Dunn told reporters in Sydney.
"Our leadership is asleep at the wheel. In fact, in some areas, I think it's on life support."
Mr Dunn said a first step would be to stop burning fossil fuels to combat climate change.
Former Fire and Rescue NSW commissioner Greg Mullins says that while Australian fire crews are well resourced "it's not enough ... because of climate change".
"Climate change is driving this problem to a place where you simply can't deal with it."
Emergency Leaders for Climate Action says it will hold its national emergency summit at the end of the current bushfire season.
Federal Water Minister David Littleproud said the government is already doing its bit.
"As the prime minister has said, and most cabinet ministers, we've made a commitment to the global community around emissions and we're working towards that and we'll put the shoulder to the wheel and make sure we live up to it," he told the ABC.
Medical experts have also warned that smoke pollution from the bushfires is becoming a public health emergency that the prime minister cannot ignore.