Floating nuclear plant sets sail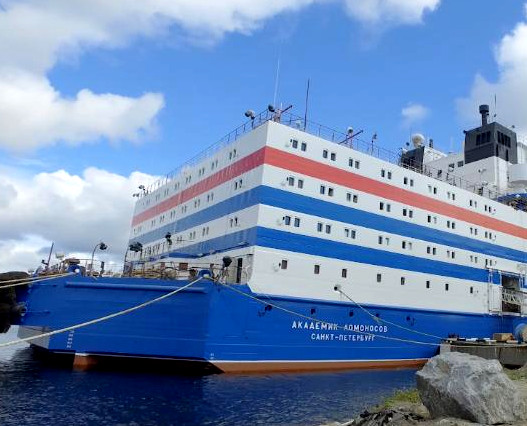 A floating Russian nuclear power plant will soon take to the seas.
The power plant called the Akademik Lomonosov has been in construction for almost two decades, but will next month be towed via the Northern Sea Route to its final destination in the Far East.
The 144-metre long platform painted in the colours of the Russian flag will float next to a small Arctic port town of Pevek, nearly 6,500km from Moscow.
It will be used to supply electricity to settlements and industries in the area, which are mostly involved in extracting hydrocarbons and precious stones.
The Admiral Lomonosov will be the northernmost operating nuclear plant in the world.
Just two million Russians reside near the Arctic coast in villages and towns similar to Pevek, but their work generates as much as 20 per cent of country's GDP.
Proponents say floating nuclear power plants can supply massive amounts of energy to remote areas without long-term commitments, but the concept of a nuclear reactor stationed in the Arctic Sea has drawn criticism from environmentalists.
Greenpeace has dubbed the Lomonosov platform "Chernobyl on Ice".
Rosatom, Russia's state-owned nuclear energy company, has pushed back against this nickname, saying the criticism is ill founded.
"It's totally not justified to compare these two projects. These are baseless claims, just the way the reactors themselves operate work is different," said Vladimir Iriminku, Lomonosov's chief engineer for environmental protection.
"Of course, what happened in Chernobyl cannot happen again.... And as it's going to be stationed in the Arctic waters, it will be cooling down constantly, and there is no lack of cold water."
The scale is indeed very different, with the Chernobyl plant having produced up to 4,000 megawatts, while the Lomonosov can manage a maximum of just 70 megawatts.
Nuclear authorities have drawn more specific parallels with the 2011 Fukushima accident in Japan.
Project engineers say they paid attention to lessons learned at Fukushima.
"This rig can't be torn out of moorings, even with a 9-point tsunami, and we've even considered that if it does go inland, there is a backup system that can keep the reactor cooling for 24 hours without an electricity supply," said Dmitry Alekseenko, deputy director of the Lomonosov plant.
Experts at Bellona - a nuclear monitoring NGO - say 24 hours might not be enough to prevent a disaster.
The floating reactor comes with a price tag of around AU$450 million, and its designers are looking to enter production of more units.
Rosatom has reportedly spoken to clients from Asia, Africa and South America to purchase next iterations of Akademik Lomonosov.