Flood probes tested in QLD

Print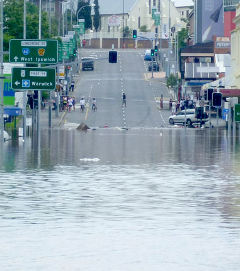 Scientists at Queensland University of Technology (QUT) have created floating probes that can measure flood water.
"The portable devices, which can be dropped by helicopters into floodwaters, can make it possible to get vital information on a river's height and pace of flow as it happens," mechanical engineer Professor Richard Brown has told the ABC.
Currently, flood devices in river systems are usually in fixed locations, limiting the data they can provide in an emergency.
"With our portable drifter device, if it is a critical rain event where there is a township of tens of thousands of people under threat, we say; 'Well we need to know exactly what is going on there, so let's deploy the drifters'," Professor Brown said.
"It is like a miniaturised laptop — you have got a GPS device that we can talk to wirelessly from an external computer or we can talk to it with Bluetooth."
The drifters are also fitted with a SIM card for transmitting and receiving data through the mobile phone network.
"Suddenly the water temperature has gone up or suddenly the drifter is going in a different direction and you can see what is happening on a map on a computer," he said.
"They are specially weighted so they float only 1 to 2 centimetres above the water's surface to ensure they are carried by the water and not the wind, it is pretty nice."
The drifters include sensors to assess pollution levels, pH levels, cloudiness, salinity, dissolved oxygen and nitrates.
It can also monitor sediment loads, which are used to predict where damaging algal blooms may form.
The drifters are being tested with the Sunshine Coast Council at Lake Currimundi and Pumicestone Passage under an Australian Research Council grant.