Fluid portfolios making some skittish about flows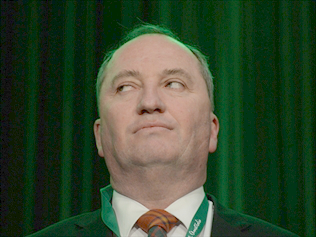 Some bizarre claims have been made this week, as South Australian senator Anne Ruston is welcomed to her new role as assistant minister for agriculture and water resources.
Barnaby Joyce was sworn in on Monday as the Minister for Agriculture and Water Resources, with Senator Ruston appointed his Assistant Minister.
It is part of a controversial move by the new Turnbull government to split administrative responsibilities water management between the Agriculture and Environment portfolios.
It has been criticised for giving more say over water to people closely linked with the agricultural industry; a major water user and source of damage.
But the National Irrigators Council (NIC) is coming at the move from the other direction, objecting to Environment Minister Greg Hunt's retention of some specific powers under the Water Act 2007.
An updated Administrative Arrangements Order issued this week shows environmental water use and resources relating to the Commonwealth Environmental Water Holder (CEWH) and part six of the Water Act 2007 relating to environmental water use, are now with Mr Hunt's Department.
NIC CEO Tom Chesson said splitting the responsibilities shared would lead to duplicated bureaucratic roles.
"Why have two bosses?" he told Fairfax reporters.
"As the former Water Minister, Malcolm Turnbull argued the need for Commonwealth intervention in the Murray Darling Basin was because; 'widely distributed responsibilities for the management of the Basin have led to inefficiency, blame-shifting and under-resourcing by state and territory governments'.
"The decision to split responsibilities for the Water Act between the Environment and Agriculture Departments will add a further layer of complexity, duplication and red tape to the management of water resources in the Murray Darling Basin at the federal level.
"It also flies in the face of the Prime Minister's rationale for the Commonwealth becoming involved in water resource management in the first place."
In a strange exchange on Tuesday, South Australian Agriculture Minister Leon Bignell used Question Time to take aim at the shift of the water portfolio to the Nationals.
He accused My Joyce of willfully killing frogs with a bulldozer.
"Barnaby's view on water is that he likes to put the big hat on, start the D9 [bulldozer] up and as long as there's no frogs or lizards in the way — and if there are, don't say anything about them — and dig big dams, preferably in the north of the country," Mr Bignell told Parliament.
Riverland MP Tim Whetstone leapt to Mr Joyce's defence.
"The Minister for Agriculture doesn't own a bulldozer and doesn't get on bulldozers to push frogs out of the way," Mr Whetstone said.
But Mr Bignell kept croaking.
"I have actually sat around the table with Barnaby a few times. I get on very well with him and I know what his views are on D9s and frogs. So I think it's great that we've got [Riverland Senator] Anne Ruston and Barnaby Joyce working together," he said.
Mr Joyce was asked about the claim by reporters later in the day, replying; "I do have a big hat. I do like dams and I too have enjoyed working with Leon Bignell."
Senator Ruston says she plans to seize her new role with both hands, and give farmers an easier ride.
"My view has always been, and it will continue to be, the best thing that government can do for the agricultural sector is get out of its way," she told ABC reporters.
"There's been far too much, in the past, intervention, regulation, and burden put on our farmers [and] they struggle to be competitive on an international and global marketplace, where other countries don't have the same encumbrances that we do.
"I think first and foremost we really do need to work to ensure we take every possible regulation, or burden, off our primary producers that isn't there for a reason.
"Unfortunately there's an awful lot of regulation that's been put in place by previous governments that do nothing but serve to make our agricultural sectors uncompetitive."