Gas giant fires up cooling

Print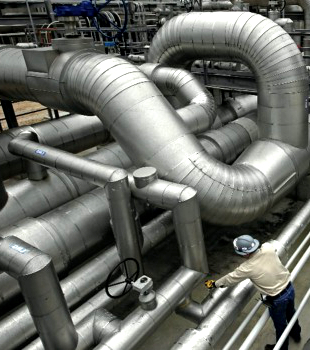 Chevron has marked a milestone for its Gorgon offshore gas project.
The company says it has begun the cool-down of the plant ahead of LNG production.
The $US54 billion LNG project has been plagued by delays and phenomenal cost blowouts, but last week announced its first LNG cargo had finally reached the island.
Part of that shipment will be used to gas the plant, cooling it down so that it can begin processing.
The liquefaction of natural gas occurs at -162 degrees celcius, and reduces the volume approximately 600 times.
The eventual start date will be a long time after the Gorgon plant's originally scheduled production start, which was set for late 2014.
"As the largest single-resource development in Australia's history, this is a significant milestone for Gorgon and is a testament to outstanding team work by our workforce, contractors and partners," Chevron Australian managing director Roy Krzywosinski said.
"Gorgon will be a long-term supplier of natural gas to our customers in the Asia-Pacific region and in Australia, delivering energy security as well as significant long-term economic benefits to Australia for decades to come."
Its backers say the Gorgon plant on Barrow Island will produce 15.6 million tonnes per annum, including 300 terajoules of gas per day to the Western Australian market via a domestic gas plant.
The Gorgon project is a joint venture between Chevron Australia (47.3 percent), ExxonMobil (25 per cent), Shell (25 per cent), Osaka Gas (1.25 per cent), Tokyo Gas (1 per cent) and Chubu Electric Power (0.417 per cent).