Greens and miners agree on need to save scheme

Print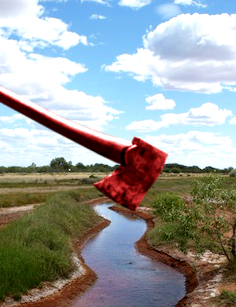 A project which has been saving masses of water since 1999 may be scrapped, as the current government blames the former government for its need to cut costs.
The Great Artesian Basin Sustainability Initiative (GABSI) uses state and federal funds to repair uncontrolled artesian bores and replace open earth bore drains with piped water systems.
The scheme has been considered successful and praised by landowners, environmentalists and even the resources industry across three states, saving over 200,000 megalitres of water for about $115 million.
GABSI is one of a very short list of initiatives that has such widespread support from sectors which are more often in conflict.
But GABSI's funding runs out at the end of the month, and not a single word was written about it in the Federal Government's 2014 budget.
Federal Environment Minister Greg Hunt says the previous government set the date, and he will do nothing to change their decision.
"The previous government gave it [GABSI] a limited lifespan terminating at the end of the current financial year and that remains the situation," he told the ABC.
"This has long been the case that we have never promised to add to a program which the previous government had intended to finish at this time."
Queensland's rural lobby group AgForce says a huge amount of valuable work has been done, and there are plenty of savings yet to be made.
AgForce Senior Policy Advisor Dr Dale Miller says about 14,000 kilometres of bore drains have been replaced with pipes across Queensland alone.
He says that 670 bores have been capped, but there is still a significant amount to be done.
"There's about 215 [bores] left that we are aware of and a further 5,500 kilometres of associated bore drains that need to be replaced with pipe," he said.
"So that would result in a saving of a further 75 thousand million litres of water from that work.
"That equates to approximately $84 million worth of work and seven years in time required to complete it."
"We would be happy to see a continuation for a further two to three years of the program."