Irrigation accused of interrupting birds

Print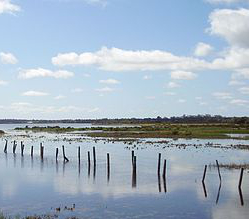 Researchers say irrigation is depriving waterbirds of nesting sites in Australia's most important wetlands.
Major floods are needed in the Narran Lakes on the Condamine and Balonne rivers in the northern Murray-Darling Basin for species such as straw-necked ibis to breed.
However, in the last 50 years, water resource development has cut the frequency of these floods from one every 4.2 years to one in 11.4 years, according to Fairfax reports.
Modelling shows that restoring environmental flows under the $13 billion Murray-Darling Basin Plan should lift the frequency of large flooding.
But even then, such events will probably only occur once every 6.7 years, 59 per cent less often than during pre-development periods.
"Reduced opportunities for breeding are likely to result in significant reductions in ibis productivity in the long term," a new paper published in Biological Conservation says.
"It used to flood fairly frequently [in the Narran Lakes]," Kate Brandis, a research fellow at UNSW and lead author of the paper, told reporters.
"That doesn't tend to happen anymore.
"The water resources have sort of taken off the really big floods, so we end up with more frequent smaller-sized floods of smaller volume and smaller duration.
"The big ones are nowhere near as large in terms of volume or in duration."
A Murray-Darling Basin Authority spokesperson has defended the plan.
"Ecological modelling work by the [authority] clearly demonstrates that the Narran Lakes will experience around 30 per cent more bird breeding events due to the Basin Plan," she said.
The plan will provide environmental flows that "will ensure the Narran Lakes vegetation is in better health and is better able to support migratory birds when they arrive at the lakes", she said.
Dr Brandis said the latest reduction "will just exacerbate what we've seen".