Irrigators slam speculation

Print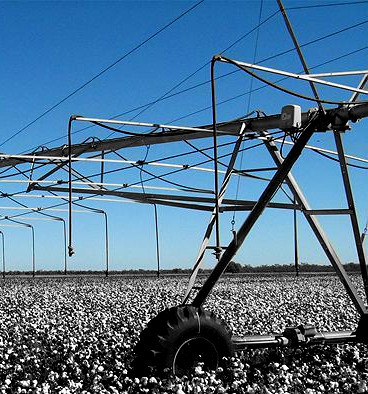 Irrigators say a lack of transparency and speculation by big players could add to price increases.
Investment companies are moving into the water market at the same time as farmers prepare for continued drought conditions.
Companies like Duxton Water, which holds 75GL of water in the Murray-Darling basin, and Blue Sky Investments, are now dominating in the water-trading market.
Some of the big irrigators also have large holdings, but these outside companies do not have significant farming enterprises on which to use their water.
Instead, they bank on the needs of thirsty crops to drive up prices.
Irrigators want to know whether a lack of transparency and speculation by these big players is adding to price hikes, with low-security water now regularly trading at over $550ML, up from $100ML three years ago.
"I think there are speculators in the market," the Victorian Farmers Federation water council chairman, Richard Anderson, said.
"There's players who don't own any land; they hold water entitlements and under the water trading rules there's nothing we can do about that."
Reports say water minister David Littleproud will soon announce that the Australian Competition and Consumer Commission (ACCC) will take a thorough look at the market.
Mr Littleproud recently promised that a re-elected Liberal-Nationals Government would get the regulator to review the southern Murray Darling Basin's water market, including its operation, transparency, and the role of brokers, traders and investment funds.
"It's time to get under the bonnet and have a good look at how and if the market is working," Mr Littleproud said before the recent federal election.
"A pure market requires transparency and is not distorted. We need to shine the light of day in on this. We need to know what's working and what isn't so relevant governments can get to work and fix it."
Duxton Water has defended its presence in the water market.
"Duxton is in the business of working and partnering with farmers to support their agricultural production. The water supply products that we provide enable them to better risk manage the volatile climatic conditions that are inherent in the Australian environment," spokesperson Alister Walsh told reporters.
"Duxton Water has a long term investment horizon and does not benefit from an artificially inflated or manipulated market, as this would undermine the long term viability and sustainability of agricultural production in Australia," the company said.