Japan sets sail for more whale slaughter

Print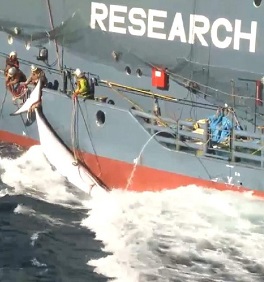 Japan is side-stepping international law to send its ships out to kill hundreds more Minke whales.
After the International Court of Justice ruled Japan's "scientific" whaling program was an utter sham that should be halted, the Japanese government moved to hear future dispute according to the guidelines of the United Nations convention on the law of the sea.
The attempt to work around recent findings of international courts has bought Japan enough time to send its ship out for a whaling season in the Southern Ocean.
Meanwhile, Japanese research bodies will continue to churn out virtually meaningless studies to make it seem that they are doing real science.
Of the 666 research papers from the Japanese whaling program, only two have ever been peer-reviewed.
Japanese academic Yasuhiro Sanada said the move may only last as long as it takes for a nation like Australia to take Japan to court again.
"I doubt Japan would win if Australia or other countries took legal action based on this. Japan is on very hazardous ground," he said in an interview with the ABC.
"The research is poor... they don't have to catch and kill anymore, research can be done by non lethal methods."
Researcher Junko Sakuma said the push to keep hunting whales came from an old political cloister, not the Japanese public.
"There are a few whaling parliamentarians," Ms Sakuma said.
"This is about saving face and has nothing to do with the Japanese people."
She said the government was going harder than ever, spending $50 million on a new body dedicated to the slaughter of whales.
"It's outside the government and will pay for expenses like renting ships and buying fuel. But it's still taxpayers' money," Ms Sakuma told the ABC.