Living Water chief leaves amid investigation

Print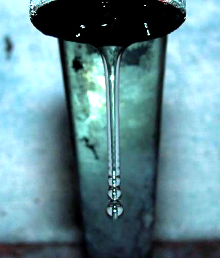 The boss of a state government water agency embroiled in controversy has resigned.
Former chief of the Office of Living Victoria, Mike Waller, will now pursue "other things in his career", according to Victorian Water Minister Peter Walsh.
Mike Waller had been at the helm of State Government water agency since March 2013, but his effective-immediately resignation means he is now on to other things.
There has been some speculation that he its leaping from a sinking ship, as a State Government ombudsman continues investigating reports of corruption in the Office of Living Victoria (OLV).
The ombudsmen's report has not yet been tabled in Parliament, but is expected soon.
There has been plenty of concern and controversy around the OLV's procurement practices, governance and administration.
Some media reports say the agency is little more than an avenue for the employment of Liberal Party-linked executives.
But the Water Minister said Waller resigned of his own volition.
"The Office of Living Victoria has been moved back into the Department of Environment and Primary Industries instead of being an administrative office of its own," Mr Walsh told the ABC.
"Mike [Waller] has chosen to move on to other things in his career."
He has acknowledged some tricky issues around OLV's administration.
"In this discussion which has going on for months now, I've always been consistent in saying that I expect the department and any parts of department, including OLV, to adhere to government employment and procurement policy," he said.
"The [department] secretary is putting in place the processes to make sure that is corrected and there are no future issues."
The Office of Living Victoria was originally set up to realise the Victorian Government's water reform plans.
"They've delivered on the majority of that program," Mr Walsh said.
"People will see the $100 discounts starting to appear on their water bills out of the fairer water bills' initiative as those bills come out now."
But the Opposition spokesperson on water, Martin Foley, paints a different picture.
"Peter Walsh, in a chaotic, panicked way, is trying to clear the decks and make others take responsibility for his mismanagement of this key water portfolio," he told reporters this week.