Million-litre uranium spill contained, calls for closure still

Print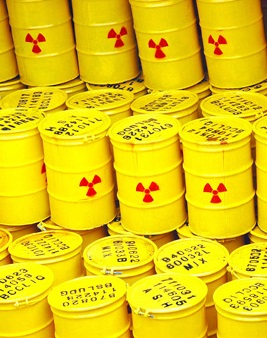 The recent spill of about a million litres of uranium ore and acid has been used as a platform to call for the end of uranium mining at the Ranger site.
One of Australia's few remaining uranium mines has been slammed by the Greens once more, this time inspired by a spill over the weekend.
The inadvertent dump occurred when the restraints on a massive tank of radioactive slurry failed, leading to large amounts being spread around the mine site.
The company that runs the Ranger site, Energy Resources of Australia (ERA) says it contained the massive leak adequately.
Environment Minister Greg Hunt says government inspectors have already been on site, giving the helpful suggestion that ERA should clean up the spill.
'It is unacceptable, it is something which we have taken immediate action of, and instructing that there be an immediate clean up," he said.
Nuclear scientist Professor Steven Lincoln says the uranium ore was most likely broken down enough that there is no great risk from the radioactivity, but the accidental dump of so much acid is a real environmental concern.
"The chemicals they used are more worrisome than the radioactivity... sulphuric acid is a very strong acid, so it's something you keep very carefully under control," he said.
ERA said it was all contained within water-management systems and retention ponds – suggesting nothing has leaked into the nearby Kakadu National Park.
West Australian Greens Senator Scott Ludlam went further than the Federal Environment Minister, saying the mine will only get worse, and should be wound-down.
"I think this latest disaster doesn't improve anyone's confidence that the mine is capable of running for another 10 or 15 years," Ludlam said.
"As far as the Greens are concerned the company should be as good as its word and close that facility when its lease runs out."
Senator Ludlum says it is a wasted opportunity if lessons are not learned.
"I think some short-term lessons include the company disclosing how many other of these leach tanks there are, and whether they're in the same condition as the one that burst," he said.
"But in the longer term, this is a very strong sign for Environment Minister Greg Hunt that under no circumstances should he let regulation of the uranium sector go back to the states and territories."