Minister storms toward new northern farms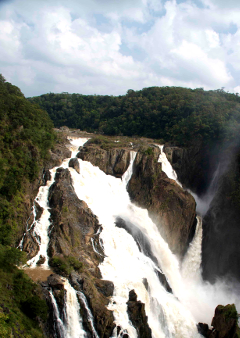 Queensland's Minister for Natural Resources says he will not slow down in his push to release more water to the state's north.
Andrew Cripps has fast-tracked a review of the Gulf Water Resources Plan (GWRP), which dictates how much water can be taken from the Flinders and Gilbert rivers for farming.
The review was originally scheduled for 2018, but Mr Cripps says he now aims to have it completed by December.
The promise of more water has been welcomed by graziers and other small-scale irrigators along the inland river system.
The rush is the result of a recent CSIRO report, which found some water resources could support extra irrigation. But there could be unforeseen fallout at the source of the flows, according to interests there.
Representatives of the $90 million Northern Prawn Fishing group say there has not been complete checks for the possible impact irrigation could have on aquaculture businesses.
Annie Jarret, CEO of the large prawn fishery firm says the state government needs to be more considerate of existing industries before leaping into new ones.
"Certainly it would have been better for more research to be done at the time the CSIRO report was being completed," she said.
"The report clearly stated that further consideration was needed to identify the potential effects on fisheries.
"The biggest problem for us is that our fisheries are very heavily reliant on water flow from those rivers, and any take-up of water particularly in drier years could be catastrophic for our industry," Ms Jarret said
"Our concerns are that this is going to be done in a very short period of time, previous reviews of water plans has taken up to two years."
The Queensland Minister for Natural Resources said there is plenty of time in the coming months to check the possible amounts of free water, and that more research will be commissioned to find out how fisheries in the Gulf might be impacted.
"Part of the review process is to see which volumes of water can be additionally allocated, but we will make sure there is sufficient water for the commercial fisheries in the gulf to remain sustainable," Mr Cripps said.