More figures swirled in whirlpool of corruption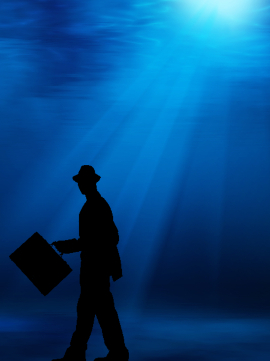 UPDATE: Assistant Treasurer Arthur Sinodinos has stood down amid the corruption inquiry, but maintains he will be "vindicated" and has been described by the Prime Minister as "a man of great distinction ... and high competence". Several Labor party members have questioned why Senator Sinodinos was appointed to the treasury position when his involvement in the case was imminent.
A corruption inquiry has seen an explosive first day of allegations on the dealings of public and private water companies in New South Wales.
Assistant Treasurer Arthur Sinodinos is among a number of high-profile figures connected to a private group called Australian Water Holdings (AWH), which has been linked to corrupt activities.
This week the Independent Commission Against Corruption (ICAC) hearing has heard that Senator Sinodinos was given the role of director at Australian Water Holdings (AWH) to open lines of communication with the Liberal Party and secure lucrative infrastructure permits potentially worth hundreds of millions.
Senator Sinodinos joined the AWH board in October 2008 in exchange for a 5 per cent shareholding. Reports say he was to receive a further 2.5 per cent if a public-private partnership (PPP) could be formed between AWH and Sydney Water; a NSW Government public company.
"Based upon the PricewaterhouseCoopers valuation, if the PPP came through Mr Sinodinos would have enjoyed a $10 to $20 million payday," counsel assisting ICAC Geoffrey Watson said, according to News Corp media outlets.
AWH secured a $100 million infrastructure deal from Sydney Water in early 2012, while Senator Sinodinos was treasurer of the NSW Liberal Party.
Senator Sinodinos denies any involvement in a deal for the chief executive of AWH, Nick Di Girolamo, to sell about $5 million worth of his share in the company to the Obeid family; which has been strongly accused of far-reaching corruption.
Senator Sinodinos said in Question Time on Tuesday; "I will be vindicated in terms of what I have said to the Senate."
"I'll be attending as a witness and - watch this space."
The Parliamentary Secretary to the Prime Minister, Josh Frydenberg, considers the Senator "a very valuable colleague".
"Arthur Sinodinos is a terrific person of the highest integrity," he told ABC Radio.
"These issues will be resolved through the normal channels."
But the allegations go back even further, with claims that AWH was formed in 1992 specifically to secure a deal with Sydney Water and channel money into the Liberal Party.
The ICAC counsel says AWH made donations worth tens of thousands of dollars to the party, which then charged the amounts back to Sydney Water as administration costs.
"On what I have seen those donations were bundled up into the expenses and charged back to Sydney Water," Mr Watson said in his opening address.
"It seems that Sydney Water has - unwittingly and unknowingly - been a principal donor to the Liberal Party."
A further allegation claims AWH put up an unsolicited business proposal for water supply infrastructure in Sydney's northwest in 2010, which was rejected by an independent assessor.
The ICAC counsel alleges that after the rejection was noted in cabinet minutes, the NSW Labor Government's Minister for Finance, Infrastructure, Regulatory Reform, Ports and Waterways Joe Tripodi altered the record to make it seem as though approval had been granted.
The false minute was then approved by former Labor planning minister Tony Kelly and his chief of staff Laurie Brown, Mr Watson said.
The hearing is part of a broader look into a bi-partisan web of corruption, which appears to have been built up across the political, construction, public services and resources sectors.
The inquiry should take around three weeks.