Murray modifications will bring a few low weeks

Print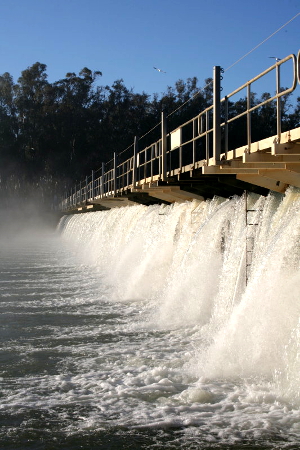 The River Murray will drop to low levels for a few weeks this winter, as work is carried out on the Mildura weir.
The Mildura weir on one of the county's most important water supplies will be lowered so that the weir's trestles can be removed, and new trestles with mechanised gates installed.
Head of river management at the Murray-Darling Basin Authority, Mr David Dreverman, says the works are scheduled to start in mid-July to allow the least disruption to local river activity, tourism, industry and irrigation.
"Removing the weir will drop the river height to about 3.6 metres below the level of a full weir pool, but the exact river height will depend on river flows," Mr Dreverman told agricultural press The Land.
"[Lock 11] will be closed for the three weeks that work is under way, but it is likely to be closed for the last week of June as well, as new trestles are transported over the lock to the weir."
"It's important the weir is upgraded and maintained so the river can be properly managed and reliably support surrounding industries.
"Mechanised gates will be a significant improvement to the existing method of adjusting the pool height and flow rates, which requires weir staff to manually install and remove large numbers of timber drop bars," Mr Dreverman said.
The weir will reportedly go down once more around winter next year, to allow for works including repairing the concrete apron which supports the trestles from the river bed.