No seeps spotted in river review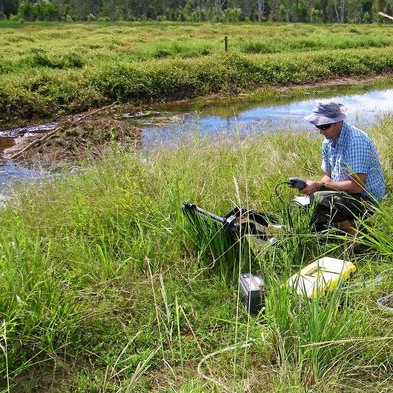 Researchers have used new techniques to establish baseline coal seam gas datasets for the Richmond River catchment on the NSW North Coast.
The detailed water quality and carbon datasets, which focused on the Richmond River and its tributaries upstream of Casino and Kyogle, are published in two new papers.
The first paper 'Assessing groundwater-surface water connectivity using radon and major ions prior to coal seam gas development' revealed that groundwater seepage drives the Richmond River flow most of the time. It also identifies river segments where groundwater seepage is most prevalent.

The second paper 'Seasonal exports and drivers of dissolved inorganic and organic carbon, carbon dioxide, methane and δ13C signatures in a subtropical river network' describes the carbon chemistry and how groundwater seepage releases greenhouse gases, including methane, to the river.
"Our research has taught us several lessons on how to perform baseline investigations in Australian rivers and groundwater. We need to use methane as a key indicator of coal seam gas impacts on groundwater, rivers, and air," said lead author on both papers, PhD student Marnie Atkins.
"Our catchment-scale mapping of river water using novel isotopic techniques identified areas where groundwater is connected to the river. These techniques can be applied anywhere. Areas where groundwater connects to river waters should be avoided for CSG development."

Professor Isaac Santos from the University's National Marine Science Centre, one of the studies' authors, has been investigating methane sources for several years using mobile technology.

"CSG exploration has been suspended in the Northern Rivers region, but the resource remains in the ground," Professor Santos said.

"Having quality baseline data is key to assessing long-term impacts of any development.

"Methane seeps that look like a spa bath have been observed in the Condamine River in Queensland after CSG development. Because no data on methane was available prior to CSG development around the Condamine River, it remains nearly impossible to define whether those seeps are related to mining or not."

The researchers found no methane seeps along the Richmond River.

"While methane is high in some parts of the Richmond River, we found no methane seeps similar to the ones in Queensland," said Dr Santos.

"All methane in the Richmond River appeared to be from natural sources. We will be in a strong position to assess impacts on water quality if CSG activity comes to our region in the future."

Co-author Dr Damien Maher from the University's School of Environment, Science and Engineering said the Richmond River has long been a focal point of the team's research.

"We now have one of the most comprehensive water quality and carbon datasets in any Australian river," said Dr Maher said.

"Site specific baseline observations are essential to plan for long term monitoring. We need to understand those natural cycles, including methane, before we are able to interpret any changes that CSG or any other development may cause into the future."