NT town questions bore fix

Print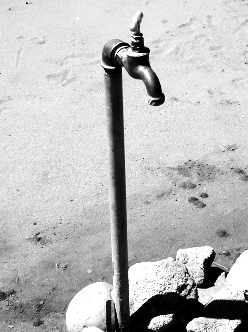 The Northern Territory Government says it has fixed water contamination in one small mining town, but locals are sceptical.
Earlier this year NT's Power and Water Corporation found elevated lead and manganese levels in the supplies of the Garawa 1 and Garawa 2 town camps, near the town of Borroloola, 70km downstream from a lead, zinc and silver mine.
The corporation now says subsequent tests showed the bore does not contain lead or manganese.
"It is suspected that legacy infrastructure within Garawa contributed to the elevated levels of lead," the government authority said, including corroded plumbing fittings.
The corporation replaced some taps and other equipment and flushed the system, and says two tests of the drinking water supply returned readings for lead and manganese below Australian Drinking Water Guidelines.
The NT Health Department has since lifted its advice not to drink the water, but residents are concerned by the Power and Water Corporation's inability to say that aging infrastructure definitely caused the contamination.
Some locals blame Glencore, whose nearby mining operations have caused a number of environmental issues including water contamination.
The company has contaminated fish in McArthur River tributaries, and spent several years trying to douse a waste pyritic rock dump after it spontaneously caught fire.
But in regard to the contaminated bore, Glencore says there is no evidence that "this incident is in any way related to McArthur River Mining's operations".
"McArthur River Mining undertakes monthly water quality testing in a number of locations in and around the site, including from the McArthur River near the Borroloola community," the company said.
"These results have consistently shown lead levels to be significantly below the Australian Drinking Water Guidelines."
At a protest outside Glencore's Sydney office this week, Borroloola resident Scott McDinny said someone had to take responsibility.
"We don't know how long our water was contaminated. Power Water told us at a meeting that we can let the water run for five minutes before drinking it," he said.
Meanwhile, the Northern Territory and federal governments have been asked to approve Glencore's plan to double the size of the mine.