Official listing for classic clean power

Print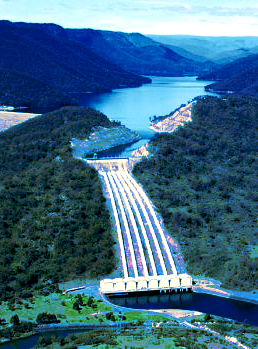 The Snowy Mountains Hydro Scheme has been heritage listed.
The 225 kilometres of tunnels, pipelines and aqueducts that make up one of Australia's best-known engineering projects has secured a placed on the National Heritage List.
It means the incredible efforts of over 100,000 workers from 30 countries that built the Snowy Mountains Scheme will be preserved in the official archives of the nation.
The project saw the connection of 16 dams, seven power stations and a pumping station, and considered a civil engineering wonder.
Snowy Hydro still runs the scheme, which provides 32 per cent of the renewable energy in the eastern power grid and diverts water to help with $3 billion in agricultural produce.
Environment and Energy Minister Josh Frydenberg announced the listing at the Snowy Hydro Discovery Centre in the NSW town of Cooma.
"The Snowy Mountains Scheme is an audacious and brilliant example of modern Australia," he said.
"A bold idea brought to life by the hard work of thousands of people coming to Australia from all over the world."
Around 70 per cent of the 100,000 workers on the scheme were migrants displaced from their homes during WWII.
The workers and their families populated entire towns across the Snowy Mountains, and is considered a symbol of multicultural Australia.
Several workers will soon see a big windfall, after the sale of Snowy Mountain Engineering Corporation to a Singaporean firm.
It is the 107th addition to the National Heritage List.