Panel denies PFAS risks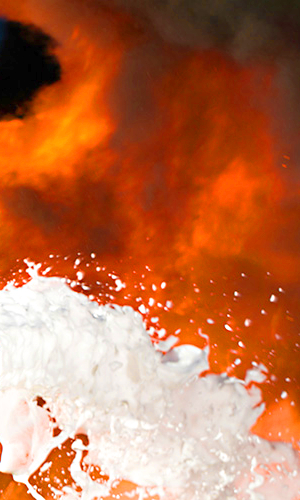 An expert panel has found there is limited or no evidence to link exposure to PFAS chemicals with human disease.
The health panel was set up last year to advise the Government on the potential health impacts associated with exposure to the chemicals that were used in firefighting foams at air bases and training sites across the country.
It concluded there is no increase in overall cancer risk, but noted a "possible link" with an increased risk of testicular and kidney cancer.
PFAS (per-and poly-fluoroalkyl substances) foams were phased out 10 years ago but still linger, causing widespread contamination in the soil, groundwater and surface water around some of military bases.
Contamination has been uncovered near Defence facilities in Katherine in the Northern Territory, Williamtown in New South Wales and Oakey in Queensland.
Locals have been offered blood tests, and in some cases, provided alternative sources of drinking water.
"Importantly, there is no current evidence that supports a large impact on a person's health as a result of high levels of PFAS exposure," the review panel's report found.
"However, the panel noted that even though the evidence for PFAS exposure and links to health effects is very weak and inconsistent, important health effects for individuals exposed to PFAS cannot be ruled out based on the current evidence."
"Although the scientific evidence on the relationship between PFAS exposure and health effects is limited, current reports, reviews and research provide fairly consistent reports with several health effects," it said.
Those effects include:
Increased levels of cholesterol in the blood
Increased levels of uric acid in the blood
Reduced kidney function
Alterations in some indicators of immune response
Altered levels of thyroid hormones and sex hormones
Later age for starting menstruation in girls, and earlier menopause
Lower birth weight in babies
The panel found that health effects for people with the highest exposure were still largely within "normal ranges" for the whole population.
"The evidence does not support any specific health or disease screening or other health interventions for highly exposed groups in Australia, except for research purposes," the report stated.
"Decisions and advice by public health officials about regulation or avoiding specific PFAS chemicals should be mainly based on scientific evidence about the persistence and build-up of these chemicals."
The panel suggested future research priorities could include long-term studies to reduce the risk of bias and confounding.
The Federal Government has announced it will provide $73.1 million dollars for PFAS-affected communities, $55 million of which is existing funding over five years for a drinking water program.