Pink Lake project launched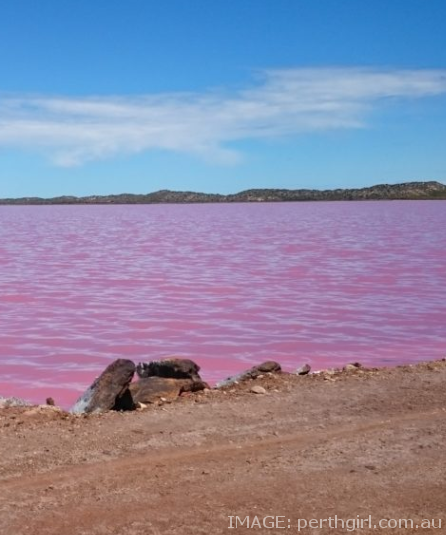 Scientists say they may be able to restore WA's Pink Lake to its famous bubblegum hue.
Pink Lake has astounded visitors for eons, inspiring Dreamtime stories and the awestruck tales of modern tourists alike.
But for over a decade, it has not lived up to its title.
The pink hue for which Pink Lake is named was caused by microscopic algae producing beta carotene, which has diminished as salt levels fall.
Changes in natural water flow, reduced evaporation, and the end of salt harvesting in 2007 mean the colour has faded away.
Now, environmental scientists are investigating ways to return the lake to its pink brilliance, contracted by the local Esperance Shire.
"At this stage, the organism that turns the lake pink is still there. But it's not producing that beta carotene because the salt levels are not as high," scientist Tilo Massenbauer says.
"There's potentially very salty water sitting underneath this lake at greater depths, ancient salt water, and if those salts are similar to what's in the lake we could bring that salt up into the system."
Mr Massenbauer says the re-pinkification can "definitely be done".
"Looking at the early stages of the science, the feasibility is quite high from a technical side of things. It just comes down to economics," he said.
Over the next six months, studies will be conducted and a cost estimate of the project will be presented for approval.
Shire of Esperance spokesperson Matthew Walker says no funding limit had been decided yet.
"The shire is looking if we can turn Pink Lake pink again for the community benefit, the ecological benefit, and the tourism benefit," he said.
"It is important to the community to see if this is possible."
Esperance Nyungar Aboriginal Corporation manager Sandie Gillard said the lake's pink colour is important to local Indigenous people.
"It always has been pink," she said.
"It didn't stop being pink for its own reasons, it was due to man's interference."
Many visitors to the region drive along Pink Lake Road, use the Pink Lake laundromat, buy food from the Pink Lake Butcher and stay in the Pink Lake caravan park, but do not get to see a lake that is pink.
Locals say it can be highly confusing and "not a good look" for the region. Some have even proposed changing the lake's name.
Two years ago, Tourism Esperance lobbied the Western Australian Department of Lands to remove any reference to Pink Lake on official documents and replace it with Lake Spencer, the original gazetted name.
Mr Walker said changing the name would be "fairly difficult", and that it would "probably be easier to try do this [scientific] project".
The lake is expected to take years to turn pink again, even if the scientists come up with a plan to do it.