Police hunt WA dam vandals

Print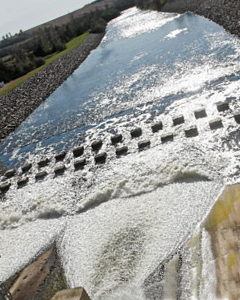 Police say vandals have caused the loss of millions of litres of water in WA, after they tampered with a dam valve in the state's south-west.
The water level at Samson Pipe Head Dam began to drop significantly at about 4:00pm on Sunday.
The Samson Pipe Head Dam is a holding dam for the Samson Dam, which supplies water for the nearby town of Waroona.
Investigations suggest trespassers used a piece of pipe to jam open an outlet valve, dumping around 89 million litres of water down the Samson Brook.
Local area police Sergeant Jeff Taylor is calling for witnesses, and says the offenders will be prosecuted.
"The area is very remote. It is well and truly signposted to indicate that trespassers will be prosecuted," he told reporters.
"It's an area people shouldn't go into, so there's [a] trespass offence and also the damage caused."
He said the water infrastructure was not permanently damaged.
"A piece of pipe was used to cause some damage and then a valve was manipulated which caused it to open to its full extent to 100 per cent," he said.
"It's extremely disappointing and water's a very important commodity."
The Water Corporation said it is always concerning when drinking water is wasted, but it should not have a big impact on supply to homes in Waroona.