Protest flotilla for salmon plans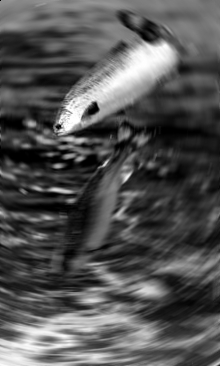 A floating protest has highlighted community concerns about Tassal's plans in Okehampton Bay.
About 50 boats hit the bay in a flotilla protest against the salmon giant's new farm, which was organised by anti-East Coast fish farming group Marine Protection Tasmania.
The public display comes just days after Environment Minister Josh Frydenberg released his reasons for approving the project.
Mr Frydenberg released the list of reasons as part of legal action by developer Graeme Wood's Triabunna Investments and Spring Bay Mill alongside the Bob Brown Foundation.
The minister said his department determined the development "could have a significant impact" on endangered southern right whales, but that this could be reduced to below "significant" levels if Tassal complied with its requirements.
Those requirements are designed to reduce risks posed to the whales by vessel strikes, entanglement and noise.
The department also found the farm could affect the migration of great white sharks through the Mercury Passage, but said it would not have a significant impact on them.
"The comprehensive and independent marine farm planning review, federal EPBC review, the baseline report and new monitoring program shows that our operations are deemed very low risk," Tassal said.
The Bob Brown Foundation is expected to decide this week whether to continue the Federal Court action.
Meanwhile, Tasmanian Greens leader Cassy O'Connor said the state should impose a moratorium on fish farm expansion to make sure the industry's rapid growth "doesn't further degrade the marine environment".
"A moratorium on fish farm expansion makes sense on every level — it would allow the community to have a say, and be heard, and it would move the industry faster towards genuine world's best practice," Ms O'Connor said.
Primary Industries and Water Minister Jeremy Rockliff ruled out the idea.
"The Government will not be moving to place a moratorium on fish farms — to do so would cost jobs," Mr Rockliff said.
"Instead, we have ­released a sustainable ­salmon growth plan for public feedback and we have moved to prevent further fish farm expansion on the east coast of Tasmania.
"The Okehampton Bay fish farm is a pre-existing lease and will operate at the highest possible environmental standards."
Environment Tasmania and a number of community and tourism groups will challenge Tassal's Okehampton Bay move at a meeting of the Tasmanian Planning Commission this week.