Questions asked after cotton raid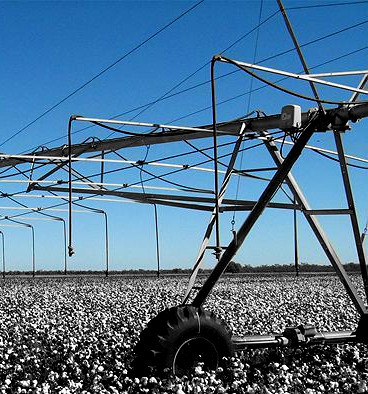 Police have raided a large cotton farm near the New South Wales-Queensland border amid an investigation into the use of Commonwealth Murray-Darling Basin funds.
A Queensland major crime squad issued simultaneous subpoenas to Goondiwindi's Norman Farming and contractors who provided services to it.
Detective Superintendent Michael Dowie of the Queensland Major Organised Crime Squad (Rural) said anyone with knowledge of how the Healthy Headwaters projects had been invoiced should contact police.
"At this stage the analysis that we've undertaken would say that there's possibly significant fraud against the Healthy Headwaters Program," he told the ABC.
Investigators are looking at whether Norman Farming and companies contracted altered their invoices to falsely indicate they worked on Healthy Headwaters water efficiency projects.
Norman Farming allegedly received $25 million for eight water-saving projects aimed at increasing the amount of water flowing into the Murray-Darling River system.
"If there are people who suspect they are involved themselves, either wittingly or unwittingly, I would urge them to contact the Goondiwindi police and speak to one of us or speak to Crime Stoppers," Detective Superintendent Dowie told reporters.
Norman Farming was recently put up for sale, where it is expected to be sold for more than $100 million.
The sale has been described as an "unparalleled opportunity to acquire one of Australia's most respected and highly regarded agricultural enterprises" with "no expense spared" on development.
But local farmers (including some neighbours of Norman Farming) claim the Healthy Headwaters program allows irrigators to replace water sold back to the Commonwealth with extra floodwaters caught off the plains, meaning it does not work and in fact goes against the very purpose of the Murray-Darling Basin Plan.
A document uncovered by Senate questioning suggests the Federal Government was aware of the allegations in 2016.
A senior adviser to the Federal Minister for Agriculture and Water, Barnaby Joyce, emailed the department last year about concerns that Norman Farming may have been diverting floodwaters.
The email also asked about whether the Healthy Headwaters funds were being used for their intended purpose.
"I have copies of some satellite maps which show extensive diversion of floodwaters from its natural course. Could you please get in touch with the (Qld Department of Natural Resources and Mines) and ask what investigations are underway? Do we have any audit processes in place to ensure that this funding goes to its intended purpose? I believe the allegation here is that (Healthy Headwater) funding … has been used to direct more water onto the farm," the adviser wrote.
Queensland's Department of Natural Resources and Mines - which is responsible for administering the $154 million Healthy Headwaters budget - has previously defended the administration of the Commonwealth-funded program.