Reef gets ship money and sad review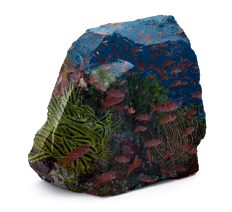 Experts have seen more evidence of the impacts of coral bleaching on the Great Barrier Reef.
Meanwhile, a Chinese shipping company has agreed to pay millions in damages after one of its ships ran aground on the Reef in 2010.
Aerial and underwater surveys revealed widespread bleaching on parts of the Great Barrier Reef earlier this year.
A team of experts has returned to one of the sites, about 54 kilometres from Port Douglas, to see what has happened since.
"We wanted to see how much repair there'd been, but the coral we saw bleached and in danger a few months back has now mostly died," The Climate Council's Tim Flannery told reporters after the trip.
"On top of that we've seen a whole lot of new damage, a whole lot of white coral out there that's been killed by Crown of Thorns starfish because it was too weak to defend itself.
"I think it's going to take years to recover."
The experts said the bleaching event had progressed, so there is now not as much completely white coral.
They are now seeing the bleached coral dying and beginning to be covered in a green and brown sludge of algae.
Meanwhile, the owners of Shen Neng 1 - the Chinese coal carrier that caused at least 116,365 m2 worth of severe damage (official report in PDF form) to the Great Barrier Reef - have agreed to pay $39.3 million to the Australian Government.
The settlement is less than a third of what the Commonwealth was seeking in remediation costs from the ship's owner Shenzhen Energy Transport Co.
The Australian Government will spend $35 million on removing polluted rubble, while $4.3 million will go to costs incurred by the Government in the immediate aftermath of the grounding.
Federal Environment Minister Josh Frydenberg said the clean-up will begin next year.
"[This will allow] the Great Barrier Reef Marine Park Authority to initiate field operations to remove toxic anti-fouling paint and rubble, which will enable the restoration of the natural ecological processes of the Reef," he said.
"The anti-fouling paint [that peeled off the ship when it grounded] at Douglas Shoal contains a highly toxic component known as tributyltin, which is now banned from use.
"The paint also contains copper and zinc. Impacts to marine life on the seafloor could potentially last for many decades if the toxic anti-fouling paint remains in place."
Great Barrier Reef Marine Park Authority chair Russell Reichelt six years was too long to wait for a settlement, but the money is good news.
"Since the grounding, the Great Barrier Reef Marine Park Authority has insisted that Douglas Shoal must be repaired to allow the naturally resilient corals in that area to recover," he said.
"Damage to the Great Barrier Reef caused by such negligence should be made good by the ship owner or their insurer and not left to the Australian taxpayers to fund repairs."