Reef groups work on restoration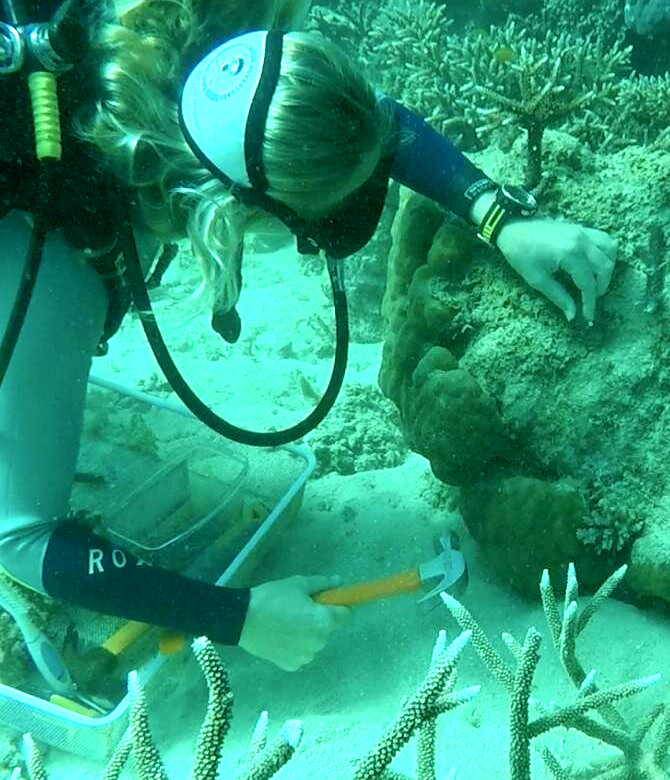 Scientists are helping tourism businesses become Great Barrier Reef guardians.
A new, low-cost device is being used to rapidly secure coral fragments to the reef, and has already enabled the propagation of coral on high value sections of the Great Barrier Reef.
Tests have been so successful that the Australian and Queensland Governments have committed more funding to take the project further.
Researchers hope the device will be adopted by more local businesses, traditional landowners and other stakeholders, giving them custodianship of the areas of the reef they depend on for their livelihoods to help replenish the Reef.
Until recently, tour operators could remove invasive Crown of Thorns Starfish from their reef sites but were not allowed to replant coral.
Now, new protocols and technology are being used in collaboration with the Great Barrier Marine Parks Authority, allowing operators to rapidly populate reef substrates with targeted coral out-planting.
Coral propagation and "reef gardening" have become global practices to aid local reef management but until now have been costly and un-scalable.
"This new device completely changes the viability for this approach because it makes the time to replant the coral fragments at least 10-20 times faster than previously possible," says researcher Dr Emma Camp, a marine biogeochemist.
Experts have already completed over 5,000 coral out-plants at Opal Reef, with the next project phase aiming for tens of thousands of corals at five different Cairns/Port Douglas tourism sites in the next 12 months.
The project is building a network of practitioners who can assess tailored propagation and out-planting practices according to the ecology and topography of different reef sites.
Wavelength Reef Cruises operator Mr John Edmondson says that the project builds both economic and ecological resilience by enabling tour operators to "develop a new practitioner network".
"This network, under a new initiative called the Coral Nurture Program, provides means not only to maintain existing good quality reef sites but also aid those impacted by coral bleaching, storms and Crown of Thorns starfish," he said.
Project leader A/Prof David Suggett says there has been a "cultural shift" in the way "science is working with stakeholders – notably local businesses and traditional owners".
"It really is a complete transformation," Associate Professor Suggett says.
"Although as much as 90 per cent of the 'reef value' comes from tourism less than five per cent of the reef sites are used for tourism.
"It's important to protect this small percentage, and one way of doing that is to help tourist operators secure the future of their sites by giving them tools for reef custodianship so that they can build capacity," A/Prof Suggett says.