Sensors set on water use

Print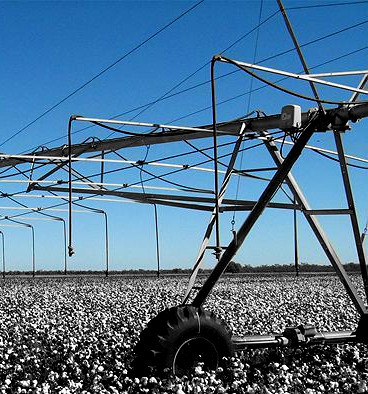 CSIRO scientists are working to maximise every drop of irrigation water for farmers.
CSIRO has entered a partnership with local agtech company Goanna Ag, which will see sensors and analytics combined to boost water efficiency on farms.
The 'WaterWise' partnership will measure crop water stress and predict future water needs in real time.
Goanna Ag produces agricultural sensing systems for water-use efficiency, and will be delivering WaterWise's smart analytics as a data stream to their on-farm customers.
The WaterWise system "lets the plants do the talking", according to proponents, with in-field sensors that measure the canopy temperature of crops every 15 minutes. It then sends the data to CSIRO's sensor data infrastructure, adds in the weather forecast and uses machine learning to apply CSIRO's unique algorithm to predict the crop's water requirements for the next seven days.
WaterWise team leader Dr Rose Brodrick says growers will be able to see the water stress of their crops at any point and predict their future water needs.
"Just like humans, plants have an optimum temperature. When things are normal it's easier to predict when a plant will need water. But when conditions change – like with a new crop, a new field, or unusually hot or cold weather forecasted - farmers want backup with their decision making," she said.
"The usual strategy is; 'If you're unsure, just add water'. This is where using high tech can help give them data and more confidence in their decision making, because every drop counts."
The next steps for WaterWise are to take the technology from in-field based canopy sensors to drones or satellites.
Goanna Ag expects the system incorporating WaterWise will be commercially available in time for the 2020 summer cropping season.