Shark sweep casts wide net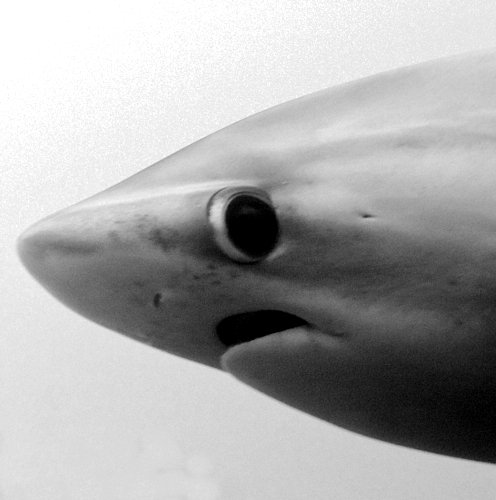 The Australian Institute of Marine Rescues (AIMR) says shark nets and drum lines are indiscriminately killing marine life within protected areas.
Investigators have obtained footage of shark nets off Noosa catching tuna, a hammerhead shark and what appears to be a black tip shark in Laguna Bay.
AIMR spokesperson Jonah Cooper says the footage shows the nets are not keeping beaches safe.
"The sharks [in the video] are entangled from the inside of the nets, so they've been on the beach side of the nets first and then on their outward approach back out to the ocean they've become entangled," he said.
"Sharks, all kinds of animals, can swim around the outside of [the nets] along the shore line."
Many conservationists consider nets a lazy, imprecise, indiscriminate and unhelpful way to deal with shark attacks.
They also criticise the very idea of hunting sharks in response to an attack, given that it is almost impossible to find the shark 'responsible'.
Mr Cooper describes nets and drum lines as opportunistic.
"Recently there was a [humpback] whale that was caught in the nets," he said.
"It released itself fortunately but it was quite entangled, the net completely encompassing the whale. It's not always the sharks that are entangled in there, which is the biggest reason that these things are so terrible.
"They're a net, they're a capturing device that doesn't discriminate between sharks and other marine life."
Mr Cooper said Governments need to use technology that can instantly raise an alert when animals are captured.
"There would be a chance of release for bycatch or harmless sharks like black tips sharks," he said.
"The nets and drum lines are the cheapest, crudest form of outdated technology.
"Sharks can get to the beaches and people if they choose, and as the nets show the sharks are choosing to go back out to sea."
The Queensland Department of Fisheries has defended its shark control program.
"The shark control program is always considering new technologies, however, technologies such as eco-barriers are still largely in developmental stage and have not been trialled successfully on a large scale to be proven to be effective in the marine environment," a spokesperson said.