Shruder shredders funded

Print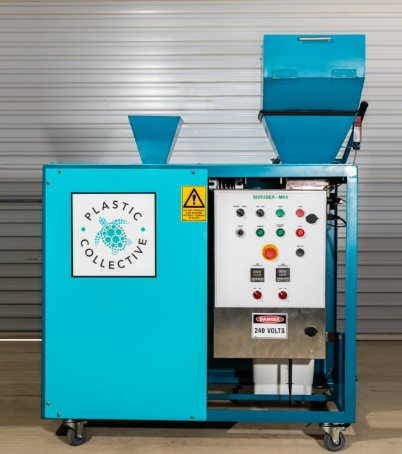 The Federal Government has funded a giant plastic-shredder to help clean up polluted oceans.
A firm called Plastic Collective has been granted $2.49 million to extend its work in waste recycling for remote and island communities.
Plastic Collective and its project partners received the Australian Government Collaborative Research Centre grant to fund the roll-out of an upgraded version of the 'Shruder' recycling machine.
The device can process hard and soft single-use plastics into raw materials or new products.
"The entire plan was to provide these recycling units to every single island in the Asia-Pacific region," Plastic Collective founder and CEO Louise Hardman has told the ABC.
"There's over 4,000 islands out of 55,000 that are inhabited in this region, and if you add up the amount of people on those islands, there's 370 million people.
"Plus there's the remote and regional communities within Australia that need support."
The Shruder recycling machine takes plastic waste and shreds it into a raw product that can be used to manufacture recycled plastic products, or extruded into moulded products or filament for such things as weaving.
About 30 per cent of the plastic it collects can be made into new products on site, while the other 70 per cent can be sold for $1 to $2 a kilogram as raw shredded material for manufacturing.
The Shruder produces about 20 kilograms of raw product per hour.
The federal grant money will allow Plastic Collective and its partners, including Southern Cross University, to develop an upscaled Shruder.
A pilot project has seen Shruders placed in remote and island communities in Bali, Sabah and on Whitsunday Island.
The pilots revealed some challenges that still need to be overcome in the remote island communities, including a lack of useful infrastructure for electricity and transport.
Three next-generation Shruders will be rolled out to remote Indigenous communities over the next two years.