Small town taking on big bottler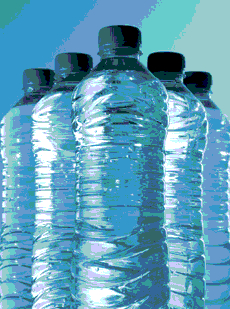 Rural Victorians have launched a global campaign to stop water from local supplies being bottled.
The small town of Stanley is an agricultural area in the state's north-east that produces prime apples and nuts.
But groundwater from Stanley's water table is being extracted and transported to Albury where it is bottled for Asahi Beverages.
Community group Stanley Rural Community Inc failed to have the approval overturned in the Victorian and Administrative Tribunal and the Supreme Court earlier this year.
The group has now launched an online petition to try to stop Asahi sourcing water from the Stanley plateau, and has already received over 120,000 signatures.
Indigo Shire Mayor Jenny O'Connor wants legislative change too.
"The water act does not actually cover these conditions," she said.
"It was written in 1989 — it is out of date and there are real concerns now that there should be consideration of the use of water, when water is being taken from agriculture for an industry like bottled water where there is absolutely no value or merit to it.
"I liken it to fracking.
"This is taking our most precious resource, water, and we know it is under threat anyway from climate change and drought, and in the meantime this industry can operate virtually unfettered."
Cr O'Connor said selling water is attractive to farmers under pressure.
"There are some farmers who are more than happy to sell their water," she said.
"It's pretty easy money, but there are a huge number of farmers who are really concerned because this is their water too.
"It's the one aquifer."
Asahi says concerned residents are misinformed.
"We responsibly manage the water sources we use to ensure the impact on communities and the environment is minimised," a company spokesperson said in a written statement.
"There is no evidence to suggest that our operations impact access to water for Stanley's residents and farmers."
Asahi says the Stanley site is not its primary water source, and it runs regular audits to make sure it is operating within licensing and sustainability requirements.
"Hydrologists have concluded that the current rate of extraction is well within what is considered a sustainable rate for the source," the statement said.
"We use the water from the Stanley bore in a responsible way, complying with all the relevant water authorities.
"There is sufficient water for the farmers, the community and water businesses to all operate successfully."
The Australian Beverages Council – a lobby for the non-alcoholic beverage industry – says it requires companies to hire hydrogeologists to regularly test their water sources.
"The sustainability of the water source is paramount to any company that is extracting water," beverage council chief Geoff Parker said.
He said bottled water accounts for a tiny fraction of groundwater use in the area.
"Bottled water represents about 0.1 per cent of all the groundwater that is used," Mr Parker said.
"Clearly manufacturing and agriculture are by far the biggest users of groundwater.
"It's important to keep in context the volume that bottled water uses on an annual basis."