State begins flood review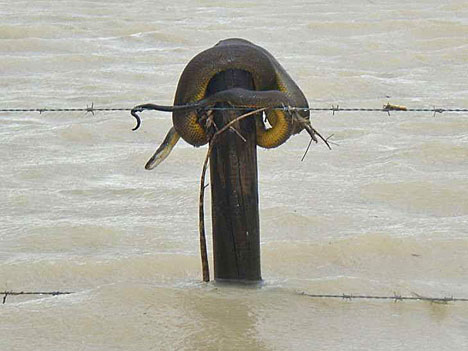 The Queensland Government has appointed the Inspector General of Emergency Management to assess the preparedness and response to floods in the state's north.
Record-breaking floods in the city of Townsville caused severe damage and led to the opening of floodgates at Ross River Dam.
Townsville Mayor Jenny Hill says the floods eclipsed records for the city.
"The Townsville floods were much bigger than a 1 in 100 year event," Cr Hill said.
"A team of experts is currently analysing the data but it is clear that the flood levels in the Ross River were greater than a 1 in 500 year event.
"There were rainfall totals over parts of the Ross River Dam catchment during the past week that were in excess of 1 in 2000 year rainfall events."
The state's water infrastructure developer and manager Sunwater has welcomed the review, saying it is committed to operating the Ross River Dam as safely as possible.
"As the operator of Ross River Dam, our role and focus throughout this event has been to ensure the dam is managed safely and in line with the direction of our customer and dam owner Townsville City Council," Sunwater CEO Nicole Hollows said.
"We too are a part of the Townsville community, with a number of our staff and contractors living locally. Our thoughts go out to everyone who is affected by this event and urge people to stay safe during the recovery phase.
"We are confident we have met all our obligations and we look forward to contributing to the inquiry and reviewing the findings and recommendations of the independent assessment.
"We must all work together to understand and plan for the flood risks in weather events, including local Councils, disaster management groups, Sunwater and residents, who each have a role during these events and in any proposed long-term decision.
"As with any event of this nature, there are always lessons that can be learned and ways we can strive to improve systems, processes or communication, which will ultimately help us continue to meet the needs of customers and the wider community.
"We will continue to ensure that Townsville City Council is fully supported by our trained and highly experienced operators and that the Ross River Dam is operated safely."