State responds to mass trout deaths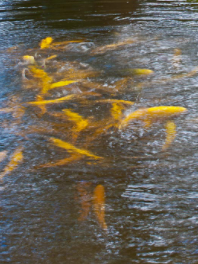 Experts are investigating the deaths of more than 100,000 fish at the Salmon Ponds trout hatchery in Tasmania.
Tasmania's primary industries department DPIPWE says 105,000 brown trout fry, 12,000 rainbow trout fry, 43 brook trout broodstock and 25 display fish were lost from the Salmon Ponds grounds.
"The ponds themselves had changed colour to a dirty brown and the smell was very evident," says Ken Orr from the Shooters, Fishers and Farmers Party.
"The Salmon Ponds are right on the river, and it's a flow-through system, the water comes out of the Plenty River and through the Salmon Ponds, and back into the river.
"I went down to the river to have a look, and it was filthy and a greasy substance on the water, foam on the water.
"There were fish struggling for oxygen, whatever it was it was reducing the dissolved oxygen levels in the water and creating an issue for the fish."
Tasmania's Environment Protection Authority (EPA) has been notified of the fish kill by the Inland Fisheries Service (IFS).
EPA Director Wes Ford says officers are now investigating further upstream.
"EPA officers identified that there had been a discharge of wastewater from the composting facility upstream of the salmon ponds," he said.
"As a result of that, I issued an order for the composting facility to clean up that discharge of wastewater, and we are currently investigating the link between that discharge and the mortality of the trout in the salmon ponds."
There is a composting facility upstream that is authorised to receive liquid waste from sources including Norske Skog paper sludge, pine bark and green waste.
"There are a number of services providers that are authorised to discharge their liquid waste into compost facilities," Mr Ford said.
"Waste from a range of different processing facilities in the primary industry sector in the state, that could be abattoirs, dairies, fish processing.
"It appears in this case the wastewater has been irrigated or sprayed onto some paddocks, and held in some bunded areas where one of the bunding areas appears to have ruptured or broken and the water then flowed into the river."
The operator of the composting facility is reportedly ploughing the remaining wastewater into a paddock.
"I need to determine whether or not there have been any breaches of the legislation or the permit conditions," Mr Ford said.
Only a small fraction of the flow in the Derwent River is used for drinking water, and authorities say small spills from the upper catchments would be highly diluted by the river flows.
TasWater Department Manager Regional Services, Brendan Hanigan, says TasWater is "unaware of any notification of a recent incident".
"In the event of any incident we work closely with the EPA on any issues that could potentially pose a risk to drinking water," he said.
DPIPWE has been called on to undertake a river health assessment.